Decorating for fall with the same old wreath season after season? Have your artificial pumpkins seen better days? Us too. Thankfully, fall decor doesn't have to be all pumpkin spice, burnt tones, and orange leaves galore. This season, the hottest fall colors and trends are anything but traditional. With pops of color to match every palette and saturated shades that harmonize with nature's earthy backdrop, creating custom fall floral designs to enhance your decor has never been easier.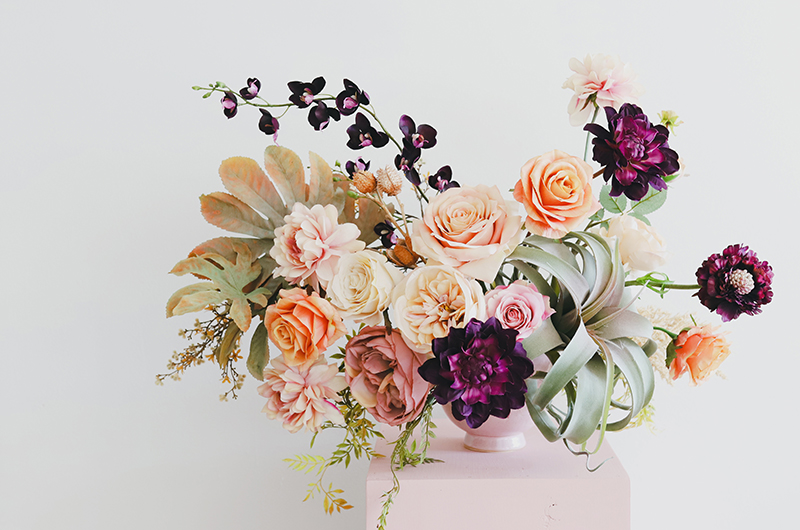 Feeling inspired? Start there. Whether it's the blue sky juxtaposed to falling leaves or merely an outfit on Instagram, gather colors that speak to you and pair them with your current home color scheme. Jen Cavender, floral designer and owner of Nectar + Bloom studio, teaches her students to embrace colors they're naturally drawn to. "Maybe it's a pumpkin spice latte that makes you feel like fall. How can you make that color meet in your living or dining room? How can you blend from pumpkin spice to your beautiful cream couch? What colors bridge that gap?" she says. By identifying your current color scheme, you narrow the spectrum of shades that work in your space and give yourself a platform to start from.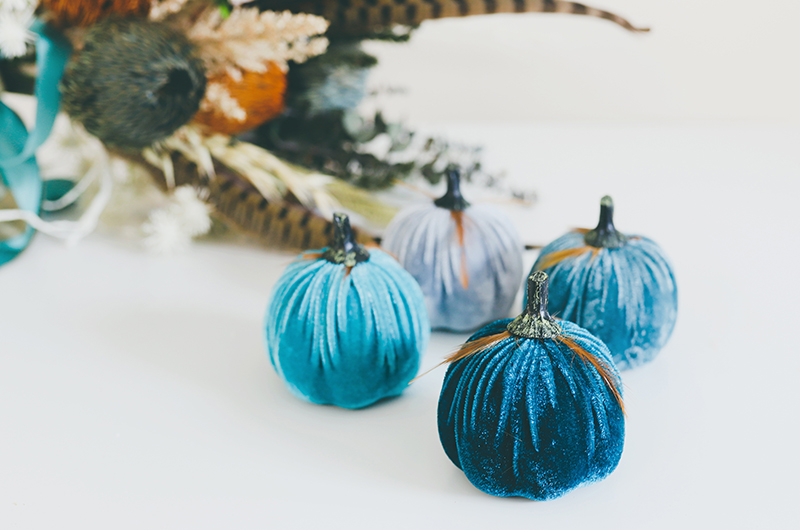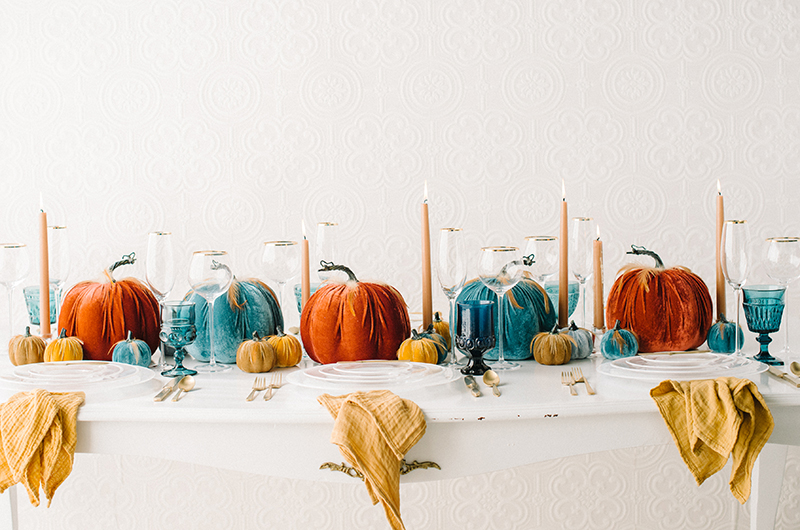 If your home or apartment is primarily earth tones, try sprinkling light lavender into a golden mustard artificial flower arrangement. Or if your eye keeps catching terracotta, pepper pistachio accents for subtle, yet soothing dimension. Fake flowers come in every shade, so don't hesitate to play up your palette. Add artificial berries for texture or place a branch or two into your design for a sculptural statement that alludes to autumn. "There's so much more to fall than just browns and oranges. I think you can really have fun with it. Do fall around coral. Do fall around green," says Cavender. For a simple swap, toss your tired pumpkins and replace them with a pop of color.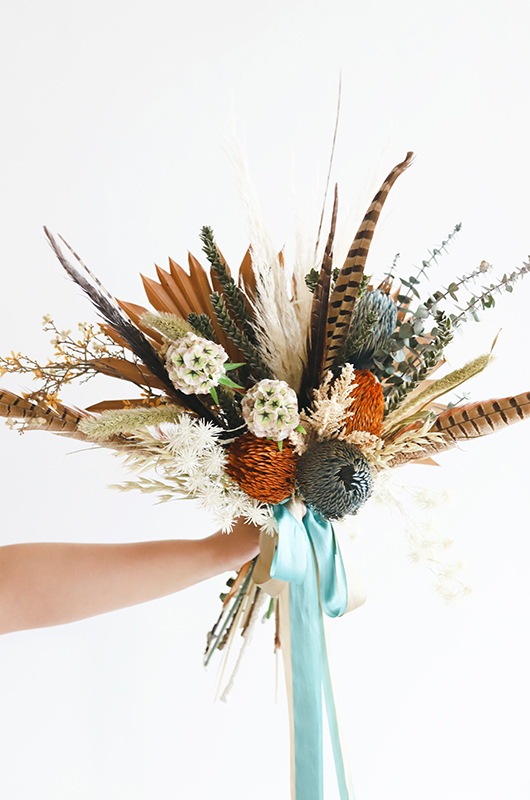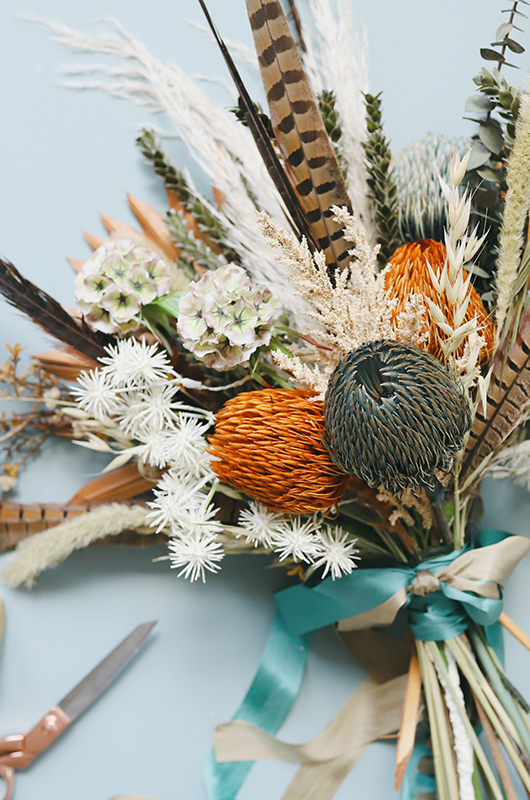 Once you've nailed down your fall colors, think shape, texture, and the vibe you'd like your designs to give off. Is your style minimalist or maximalist? Do you prefer a more tailored traditional look or does the idea of bold dried or dyed blooms spark your interest? LeAnne Samuelson, Afloral creative director, loves incorporating dried and tropical accents into her fall designs. "Preserved palms, artificial anthuriums, or simply an array of dried flowers adds so much texture and shape without the hassle of fresh florals," she says.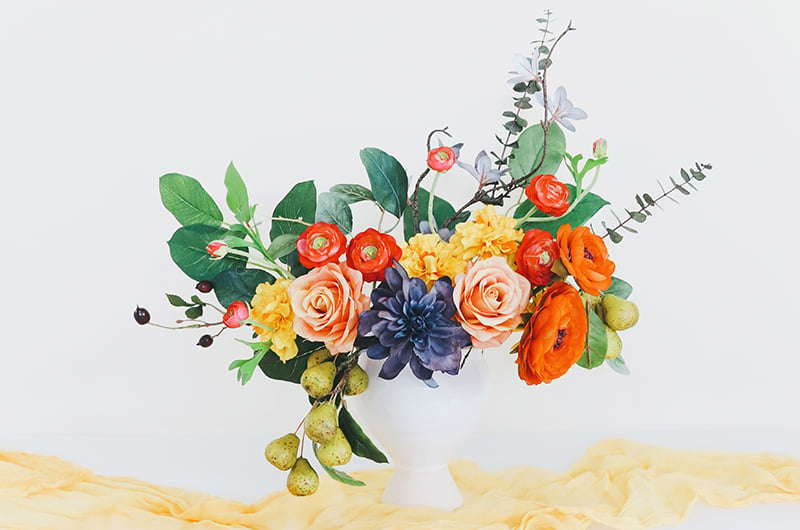 For a classic look, start with peonies or dahlias in soft earth tones and mix in your accent colors along the way. For something a bit spicier, introduce dried banksia protea or chocolate bunny tails. Dried flowers and preserved grasses are a great way to bring nature in without going completely code orange.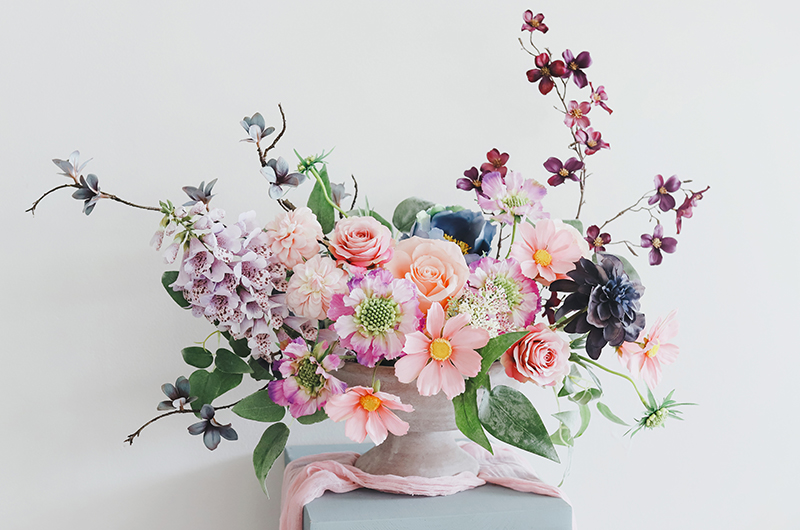 Ultimately, your fall decor should be unique to you. Drop the cookie-cutter arrangements and create a custom look just your style, even if it's pumpkin spiced themed!
Images provided by Afloral