COVID-19 has required couples to get creative in reimagining plans for their big day. This past summer, many couples opted for outdoor ceremonies and receptions in place of their pre-pandemic planned venues. Although summer has ended and the weather is cooler, couples don't have to say goodbye to an outdoor ceremony that feels safe, warm, and cozy. In fact, by adding dried florals into an updated color palette, you can create a timeless seasonal beach wedding during the fall and throughout the holidays.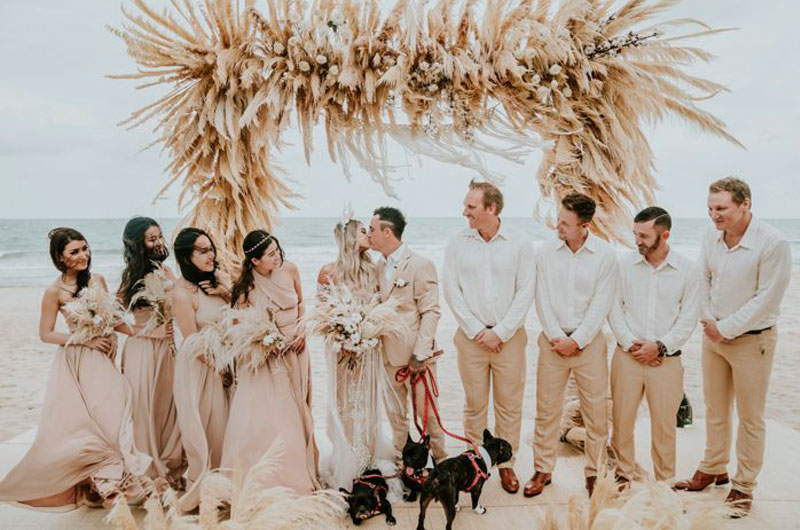 Katie Noonan, a California florist with Noonan's Designs, has worked with brides during quarantine to transform their original floral designs to fit the season of their replanned ceremonies seamlessly. To do this, Noonan uses flowers with lighter fall tones, like tans and caramels, to "bring a little bit of the season into what [the brides] had originally envisioned" and accentuate the beach's features.
"Dried flowers and foliage are perfect for beach weddings, especially if the couple is aiming for ethereal and minimal vibes," Fatima Bazzi, a Michigan florist with Studio Terrain Floral Design, said. "Dried and preserved product often come in muted, neutral shades. Adding these tones to a sandy beach just goes so well."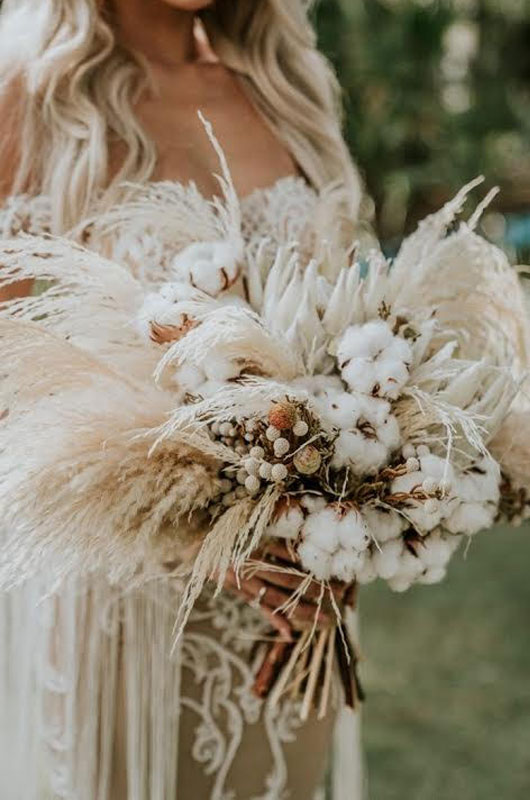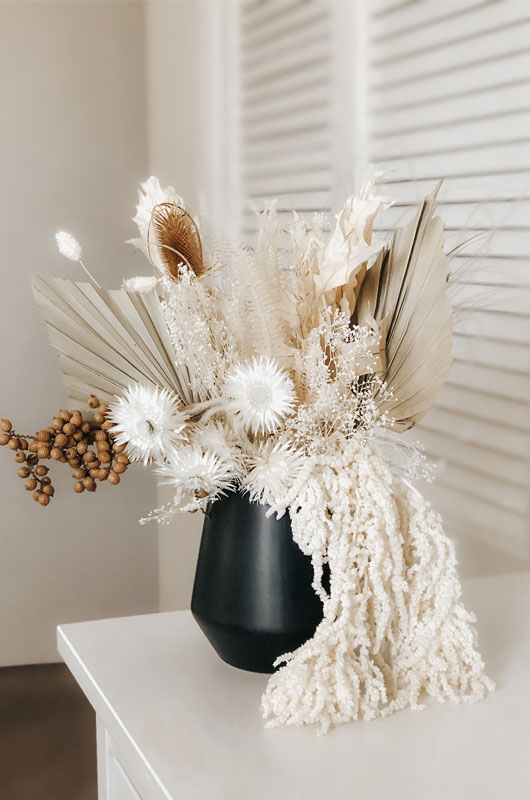 From altar pieces to aisle ways, the preserved floral decor is versatile. Decorate a focal point, like an arch, with pampas grass and gypsophila, like Bazzi says, or use a statement piece of assorted flowers that grow up from the ground–what Noonan calls a "growing up arrangement"–to frame your ceremony and create an effortlessly whimsical feeling. Dried floral accents for seasonal beach weddings just sounds so right.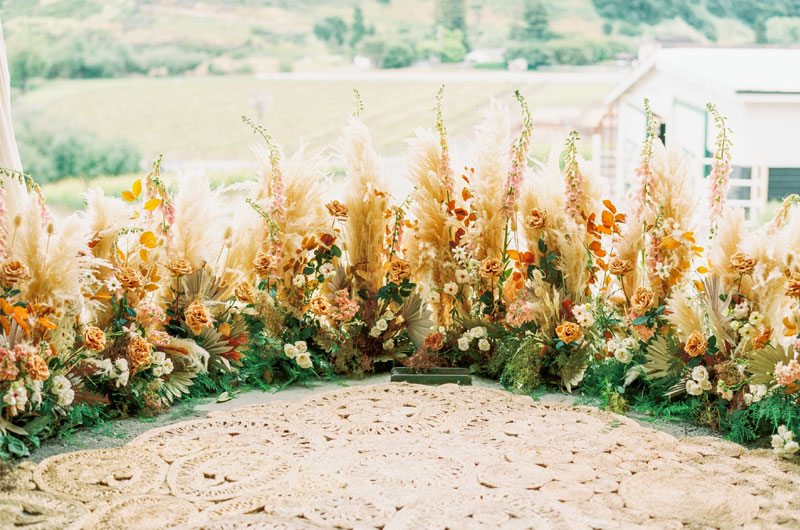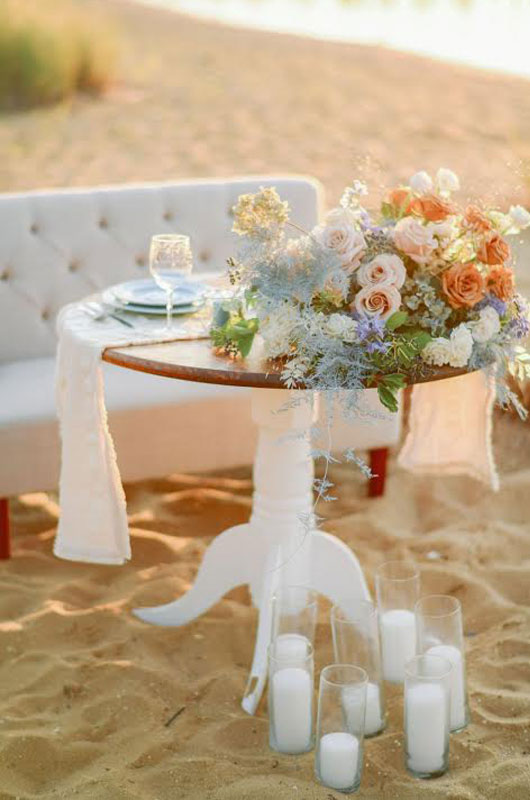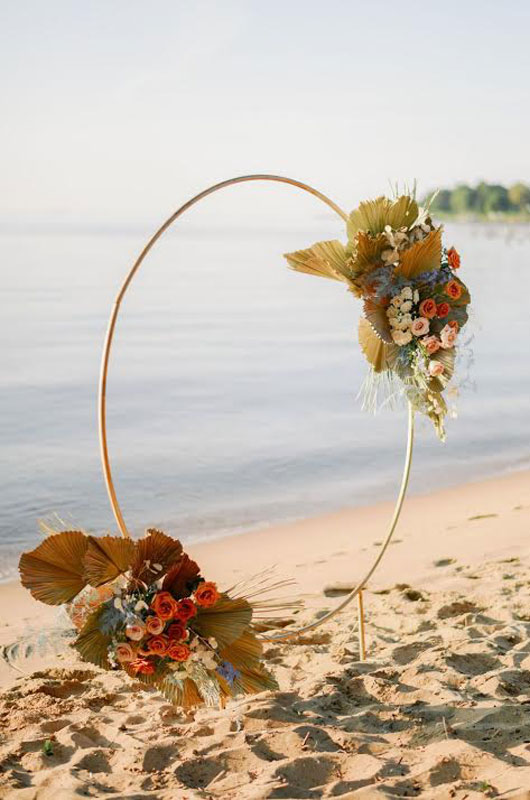 Preserved decor doesn't have to be solely neutral, however. For a pop of color, Bazzi recommends color spraying your preserved florals! Not only will this bring more saturated hues into your wedding, but it can also change the vibe from a minimalistic to a more glamorous affair.
For minimalist-style celebrations, focus on using feather, willow, and abundant greenery in place of decadent flowers, like Marcy Trickel and Jan Phillips with Funky Mountain Flowers suggest. Otherwise, both Noonan and Bazzi focus on single-flower designs to keep the ceremony simple, but these minimalistic looks can still vary from season to season.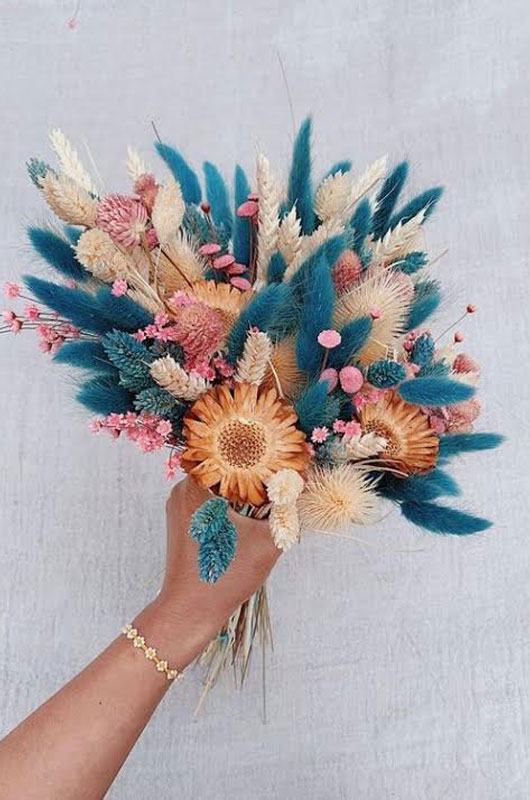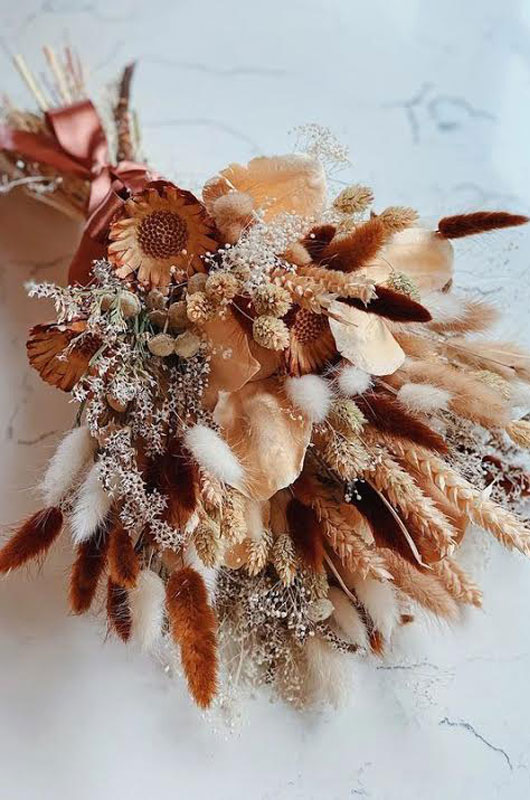 "In the winter, I like to focus more on the white dried product like ruscus, hydrangea and bleached eucalyptus," Bazzi said. "Sometimes, I like to add in a dried branch of juniper with the little blue berries."
For an autumn look, couples should stick to naturally dried products, like thistle, fern, and eucalyptus, Bazzi says, since their tan and sage tones bring upon a warm feeling that is everything but spooky.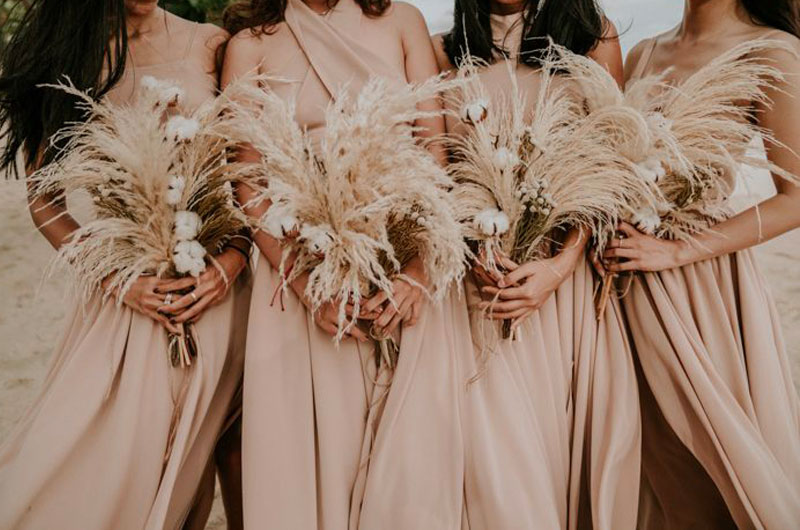 With dried florals becoming increasingly popular, the fall and winter are perfect times to incorporate them into your wedding day. Not only are they beautiful, but your bouquet and decor will be preserved from the get-go, making them a meaningful accent to your everyday home decor after the big day. Regardless of which season your ceremony falls in, dried floral accents for seasonal beach weddings sounds nothing short of entrancing.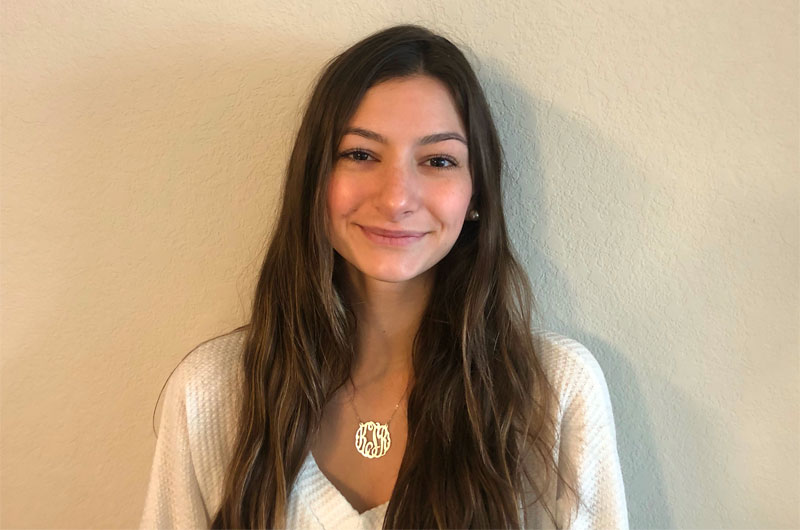 Karly Trimble
Editorial Intern
Karly is a senior at the University of Mississippi and is majoring in News-Editorial Journalism with a minor in Professional Writing. Though originally from New Jersey, she's always loved the South and its charming hospitality. In her free time, Karly enjoys cooking healthy meals and baking sugary desserts. (It's all about balance, right?) After graduation, her goal is to jump into the magazine industry.