Today on the Southern Bride Blog we have a guest post with Designs by Jerry, who specializes in floral preservation. Brides, if you are interested in making your bridal bouquet a piece of art and something to treasure forever, then you will want to read more about Designs by Jerry!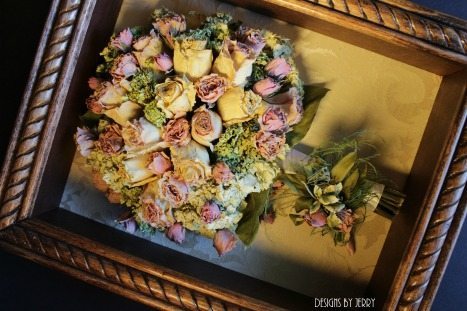 Many years ago I had an idea to dry an entire wedding bouquet. Now, I had to study this one for quite some time, but eventually, I created and designed my own system to dehydrate and preserve bridal bouquets. I asked my father to help me create a framing system to display the flowers in. My father is a wood craftsman…he can build anything…so he gladly took on the challenge. And, Designs By Jerry was officially born. So for about 15 years now, I've been designing and hand making shadow boxes and drying wedding flowers, bridal bouquets, and memorial flowers.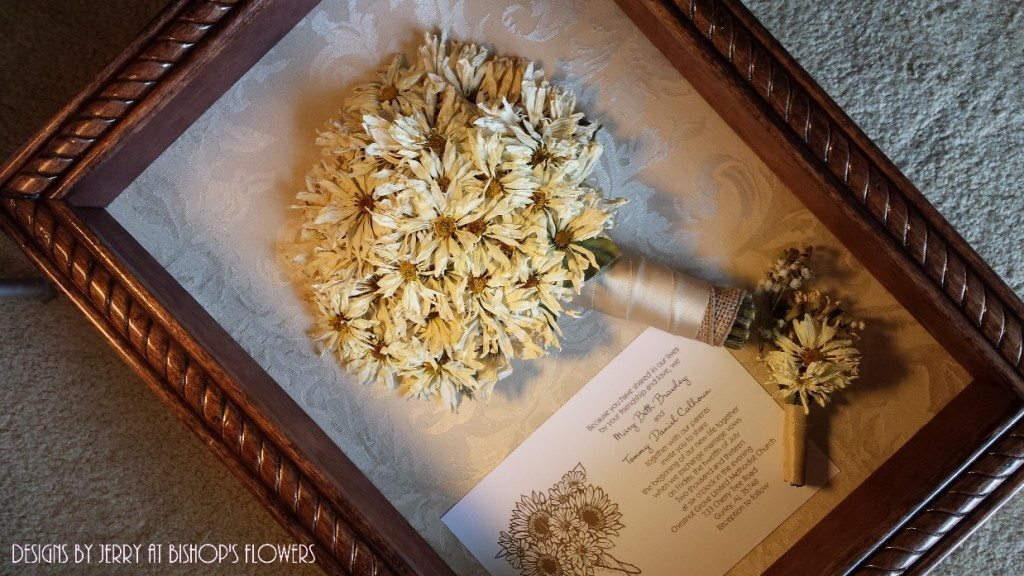 My system is an air dried system. The flowers are free from any chemical additives so they usually darken a bit and shrink in size. But, the finished product is a beautiful Victorian Style rendition of the bride's bridal bouquet. Something she can keep to bring her a lifetime of precious memories of her wedding day. And then, one day she can pass it on to one of her children! That's why I love my business. I create memories…
Most brides started dreaming about and planning their wedding day since they were children. And, one of the most personal items of all of the wedding items you have to have, the bride's bouquet is something is that "just for her"….it's second only to the wedding gown. And, now a bride can walk down that aisle again and again when she see's her wedding bouquet preserved and displayed and hanging on her wall. And, it's so unique looking, it actually becomes a piece of artwork for the family.
To have your wedding flowers beautifully preserved, you can reach Jerry at 256-679-6227 or 256-539-2711 or email him at jerry@jerrywwilliamson.com. You can also visit his website at DesignsByJerry.com and follow him on Facebook by clicking here.
Don't forget to get your flowers to Jerry almost immediately after your wedding day. No later than Monday! And for best results, your flowers should be as fresh as possible.
#southernbridemagazine #southernbride #southernbrideblog #bouquet #designsbyjerry