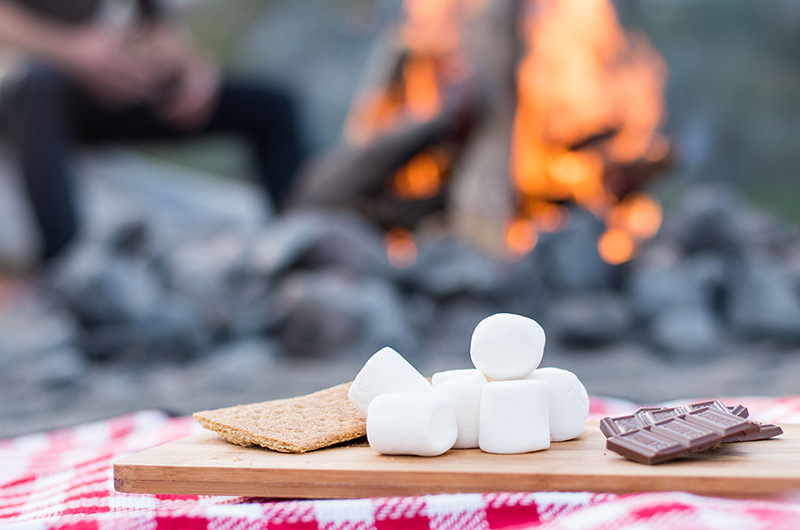 Happy National S'mores Day! With summer weddings well under way and October looming around the corner, we're starting to slide into a Fall mindset. Though we know many of you would like to hold onto warm weather as long as possible, we're here to serve tasty inspo for fall weddings. Any of these four melt-in-your-mouth 'mallow treats are sure to make your celebration memorable.
S'mores Favors
Send guests home with individually wrapped s'mores so they can continue celebrating even after the party ends. All they'll have to do is heat up their marshmallow once they're home. Get crafty and customize the packaging to add a personal touch.
S'mores Station
A sweet alternative to wedding cakes, guests will love this hands on dessert! At the reception, set-up a table that includes various kinds of graham crackers, chocolate bars, and whole lot of marshmallows. You'll either need a fire pit or butane countertop range for the roasting.
S'mores Inspired Cocktails
For your signature cocktails (who says you can't have more than one?) choose a creamy liqueur that goes well with a variety of sweet, adult beverages like chocolate martinis and mudslides. Top off the drinks with a roasted marshmallow for the perfect finishing touch.
S'mores Bonfire
When the temps drop in the evening, guests will appreciate a hearty bonfire to warm up next to. Before it gets too dark, lay out all the s'mores necessities so guests can start crafting their delicious treat!
Image provided by Jessica Ruscello