Traditions hold a special place in the hearts of Southern brides, so it's no surprise that Burying the Bourbon is one of the most popular rituals for bridal couples at Pursell Farms, a 3,200-acre destination resort just outside of Birmingham, Alabama. The ritual is a favorite element of weddings held at Hamilton Place at Pursell Farms, the resort's 22-acre wedding venue that includes a Grand Ballroom, lakeside Ceremonial Lawn and Isle, expansive Terrace, and a Historic Home circa 1852, listed on the National Register of Historic Places.
According to Southern folklore, if a bride and groom bury a bottle of bourbon at the site where they'll be married, it won't rain on their wedding day. Here are the specific steps bridal couples follow with the help of the wedding team at Pursell Farms: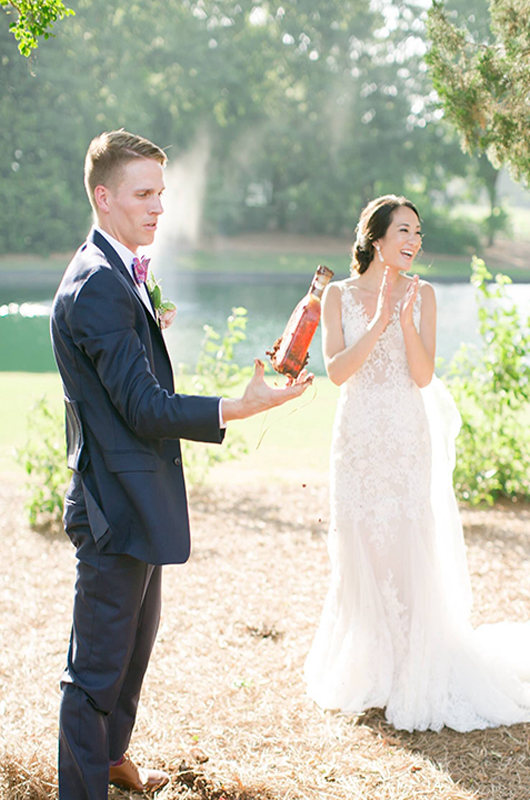 1. The Date and Time
Legend states the bride and groom must bury the bottle exactly one month to the day of the wedding at the exact hour of the ceremony. Getting married on December 10 at 6 pm? That bottle of bourbon needs to be in the ground on November 10 at 6 pm.
2. The Bourbon
Since all bourbon is whiskey, but not all whiskey is bourbon, Pursell Farms' wedding team ensures the bridal couple buries real bourbon by including a bottle of Maker's Mark—a small-batch, 90 proof bourbon from Kentucky's oldest continuously run distillery—for burial on the special day.
3. The Burial
A special location is set aside at the Hamilton Place wedding venue for buried bourbon bottles. The bride and groom take turns digging a shovelful of dirt, usually with memorable photos commemorate the tradition. Then the unopened bottle is buried upside down with the neck of the bottle down in the ground. Not on its side. Not upright.
4. The Post-Ceremony Celebration
Dig up the bottle as Mr. and Mrs. and share the bourbon with the wedding party to celebrate!