Calling all thrill-seekers! If you're done planning the perfect wedding, you're probably on the hunt for some honeymoon inspiration. We've pulled together some of the top luxury glamping destinations abroad for a truly adventurous honeymoon. Each venue offers private pods that allow you to indulge in the long-awaited travel season while staying COVID-safe and getting a pampered camping experience. From Switzerland to Tanzania, take a look at these amazing spots that are ready to offer you a relaxing escape.
Odzala- Kokoua National Park Discovery Camps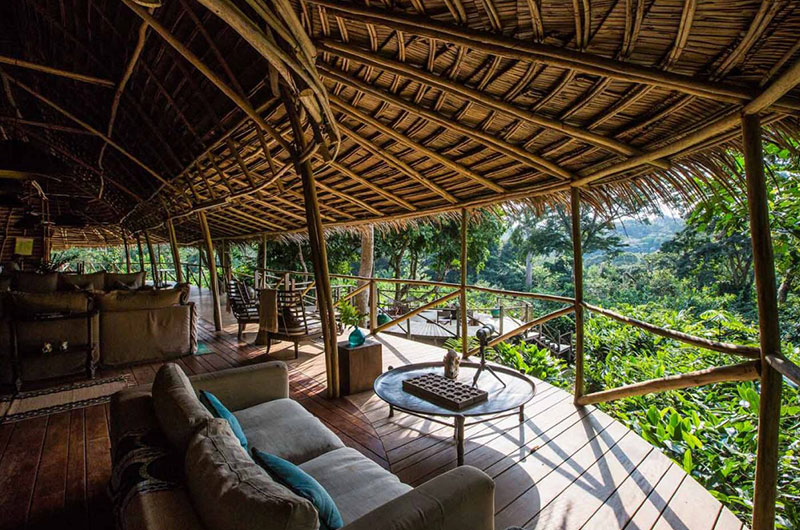 Image from AfricanParks.org
Set on the Congo Basin Rainforest, this glamping destination is home to the second largest tropical rainforest in the world. Odzala-Kokoua National park hosts three unique camps for guests to choose how they want to relax and explore the area. Lango Camp is a six-roomed camp overlooking Lango Bai, Naga Camp consists of six bungalows above the Ngaga Stream surrounded by habituated groups of western lowland gorillas, and Mboko camp consists of twelve guest rooms and serves as the adventure camp of the area. Plus, there are more than 20 forest elephants being monitored in the camp's area!
The Caves in West Negril, Jamaica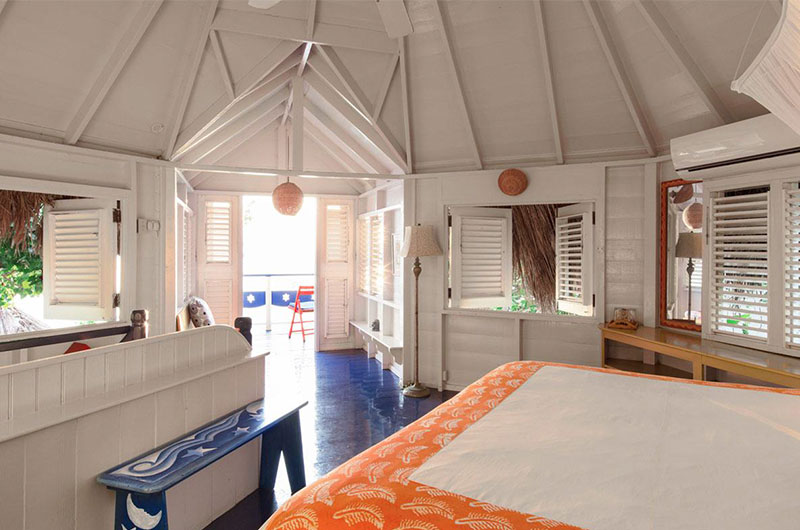 Image from The Caves Hotel
The Caves Hotel is the definition of a grand and lavish outdoor experience. It hosts twelve custom designed cliffside cottages, a stunning grand villa, two dining gazebos, and private caves filled with bright pops of color and art that make each section of the resort especially fit for honeymooners to experience beachfront elegance, innovative architecture and bohemian decor. The Caves Hotel also provides endless options for watersports and onsite activities including snorkeling, cliff diving, and rejuvenating spa days. Situated on the edge of the property lies the Sands Bar, which is filled with abstract stonework and wicker accents for guests to admire while they enjoy the bar's remarkable seaside view. The camp hosts many daytime activities to keep you entertained, but don't tire out before the sun sets because the bustling nightlife and live entertainment are celebratory festivities that can't be missed!
The Highlands in Tanzania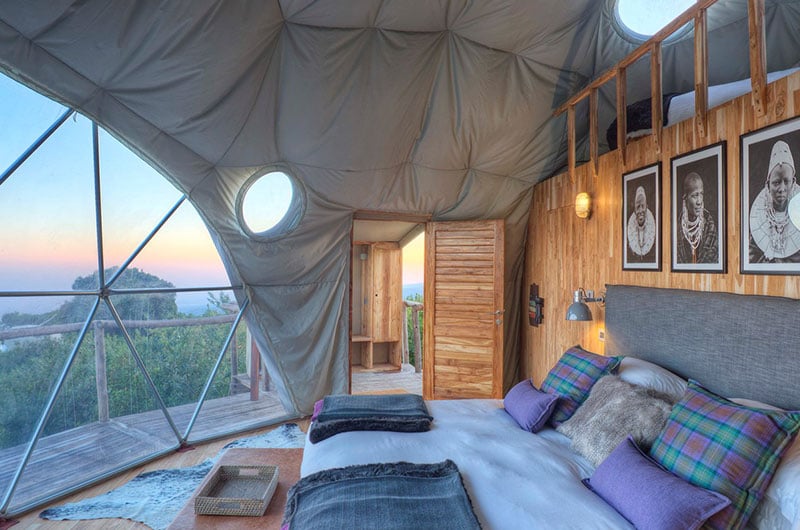 Located alongside the Olmoti Volcano's stunning marshlands and mountainous forests, the Highlands provides the perfect balance of outdoor living and a modern comfortable stay. Surrounding the communal library and campfire lies eight lofted domes made of canvas and glass. Escape from reality in the awe-inspiring views from outside on the wrap around porch, or from the comfort of inside your suite through the floor to ceiling windows. The camp is positioned in a secluded and remote location but close enough to take a day trip to spot lions, elephants, and giraffes. You can even embark on a half day trip to Soda Lake to capture a once in a lifetime sighting of pink flamingos.
Four Seasons Tented Camp at Golden Triangle in Chiang Rai, Thailand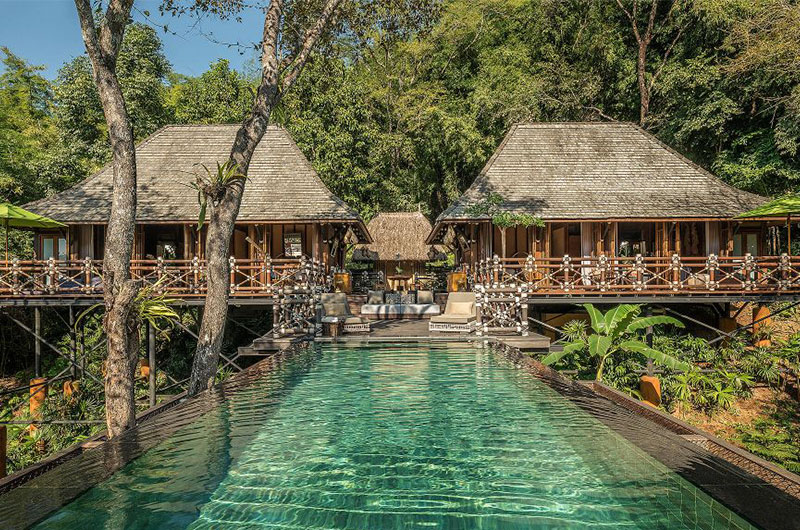 Image from Four Seasons Tented Camp at Golden Triangle
Travelling the Four Seasons Tented Camp at Golden Triangle is a nature-lover's heaven on Earth. The camp has various options of deluxe tents fit for your custom honeymoon glamping experience. Tents are decorated with rustic furnishings and can include a private infinity pool, outdoor shower, and/or king sized wooden hot tub. Adventurous honeymooners can delight in hanging out with rescued elephants, wander trails through the lush mountains, or spot wildlife while exploring bamboo jungles. The excitement doesn't stop there, because the camp also includes a trading post boutique with local crafts, clothing, homeware, and souvenirs to bring home. In addition to this, you can take delight in the full-service jungle spa, elephant camps, and even temple excursions.
Whitepod Eco-Luxury Hotel in Valais, Switzerland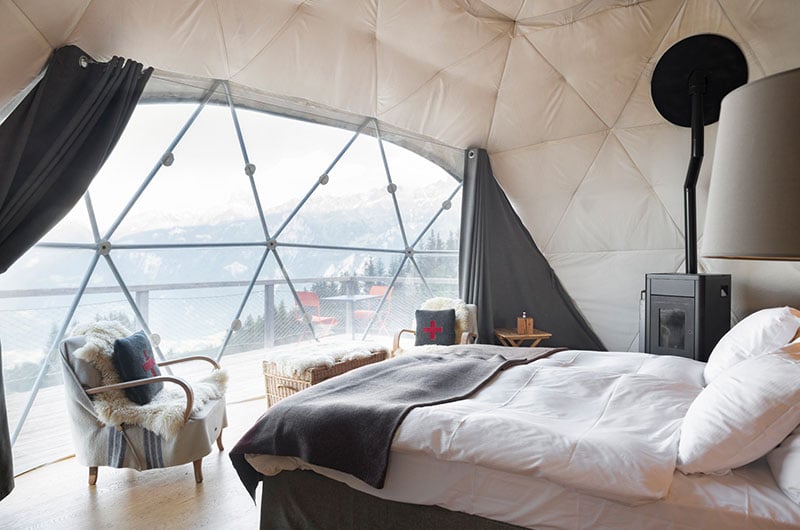 Image from Whitepod Eco-Luxury Hotel
Including eighteen private and secluded pods and nine suites-chalets with stunning mountain views, the Whitepod glamping destination is inspiringly eco-friendly, from the geodesic structure to the limited onsite transportation to the sustainable form of heating. The area provides endless opportunities to experience a honeymoon in the Swiss mountains, no matter what season you travel in. Some of these once in a lifetime experiences include hiking with huskies, biking, skiing, massages, hypnosis, cave tours, adventure courses, paragliding, dog sledding, and even forest escape games that will entertain you for days. Visitors can also take a tranquil break from the outdoors and marvel in the wondrous scenery from the comfort of their own room.
Mile End Glamping in Margaret River, Australia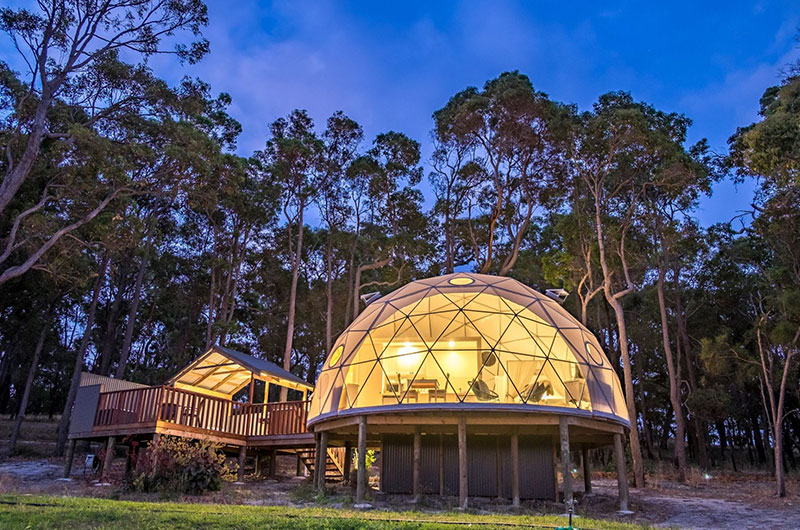 Image from Mile End Glamping
Situated on 144 acres of land, and in the heart of Margaret River wine region, the romantic two person domes of this destination create a quiet and intimate outdoor honeymoon experience. Visitors' pods at Mile End Glamping are anything but average. While residing in the geodesic domes, you will wake up to a surrounding view of the forest and you are granted access to a private bathroom, kitchen, deck, outdoor shower, and barbeque. Throughout your stay, you can partake in private art classes, customize your own wine tour, journey through six iconic town venues on the Walk Talk Taste Tour, capture incredible views in a helicopter, or unwind through Massage South West.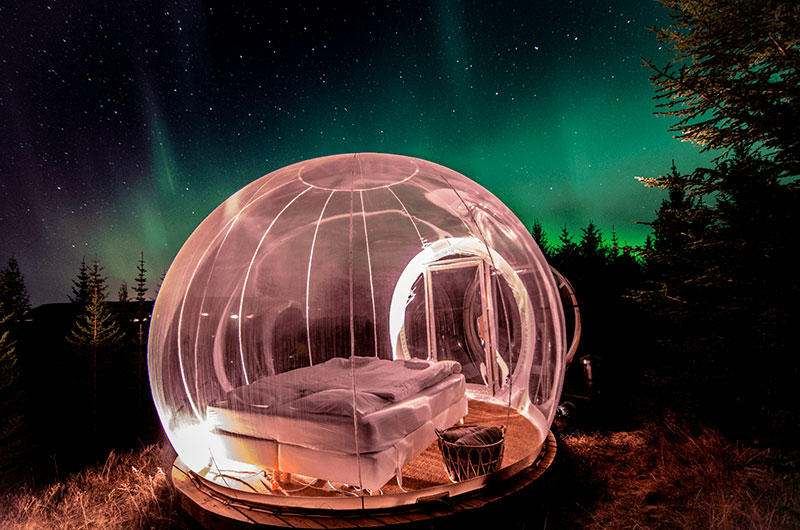 Image from The Bubble Hotel in Iceland
Interested in a day full of adventure and a one-night stay in a transparent bubble with 360-degree views in Iceland? Guided tours through the Bubble Hotel in Iceland offer that and so much more. Guests have the option of staying in nine different bubbles, including a bubble that hangs from the trees! Tours vary based on the season but on your honeymoon you can expect to see many of nature's most magical wonders. Stops along the tours could include waterfalls, hot springs, beaches, and you may even have the opportunity to gaze at the northern lights straight from your bubble!
Get ready to unwind and enjoy the great outdoors after saying "I do". These top luxury glamping destinations abroad offer the perfect balance between COVID-safe travel options and exploring unique destinations. Complete with animal encounters, spa treatments, and awe-inspiring views, your honeymoon will be unforgettable at these properties.