By Sharon Naylor
The 'Something Blue' of the traditional good luck poem has gotten a makeover since the days of Something Blue being the trim on a wedding garter or blue embroidery on a wedding handkerchief. Now, your Something Blue can be something you wear, or it can be an element of your wedding day – still bringing you that good luck symbolism, no matter how you choose to do your Something Blue.
We are so pleased to share Sharon Naylor's 20 of the top new ways to bring Something Blue into your wedding look, or into the beautiful details of your wedding celebration. This is a two part series, so be sure to check back next week for the following 10 ways to incorporate something blue!
On You
One: Your Shoes. Think sparkling blue Louboutins or pretty blue pattern on your shoes, for a pop of color and a fabulous, fashionable new twist on Something Blue.
Two: Your Wedding Dress. The Bridal Fashion Week runways will often show wedding dresses in color, from pale pinks to summery yellows and gorgeous gold, so if you're a non-traditional bride, consider wearing your Something Blue in your wedding gown's hue.
Three: Temporary Tattoo. Whether you put it on display, like this I Do temporary tattoo from Your Happily Ever After shop on Etsy, or plan a secret surprise for your groom later in the evening with a hidden tattoo, this Something Blue lets you add a message to your wedding day style.
Four: Dramatic Eyeliner. You've seen celebrities like Katy Perry sporting dramatic, bold blue eyeliner, and you may have viewed a YouTube tutorial or two to get this trendy eyeliner look. If blue eyeliner flatters your eyecolor, this may be your Wow Factor Something Blue.
FIVE: Mani/Pedi. Classic, traditional French manicures have gotten a nail art makeover for weddings, with pale or bright blue polish shades completing the look, or playing a part in patterned nail art that adds a pop of color to your wedding day mani/pedi.
SIX: Jewelry. The little emerald included in this wedding ring design from Vera Wang shows how trendy a jeweled Something Blue is right now. If you'd rather not add a sapphire to your wedding ring, you can always wear a lovely necklace or stacked bangles with pretty blue stones as your jewelry look.
SEVEN: Bouquet Charm. Add a tiny charm to your bouquet handle to pay tribute to a departed loved one, or just to accessorize your bouquet with a little sparkle. You can choose from colored stones to tiny starfish, a butterfly…whatever says 'Good Luck' to you, super-powering your choice with that lucky blue shade.
On Your Bridesmaids and Moms
EIGHT: Blue Dresses. Here's where the Something Blue starts to get creative, with your bridesmaids or the Moms wearing blue dresses as walking good luck charms! Think sparkling ice blue in winter, sweet blush blue in spring or summer, or gorgeous cobalt blue any time of year, as the color palette for your matching or mis-matched ladies' gown looks.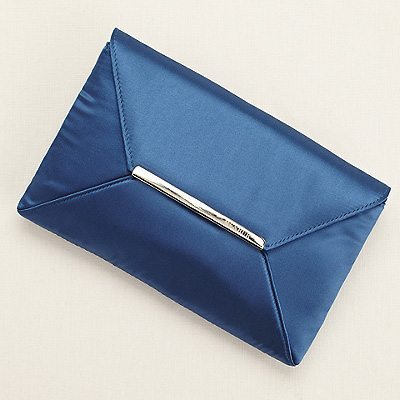 NINE: Handbags. Yours, your maids' or your Mom's, handbags are an easy way to bring something Blue into your wedding day details, regardless or whether or not your ladies will wear blue gowns. So, if you love those pretty neutral beiges, tans and browns, or elegant black dresses for all, a burst of blue color in their handbags adds the shade to your day!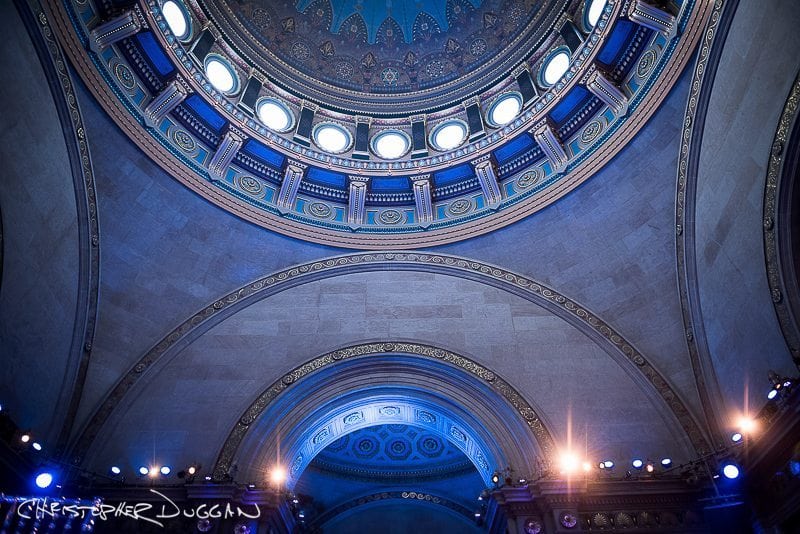 Your Wedding Details:
TEN: Lighting. Specialty blue lighting effects bring out the gorgeous details in your wedding venue, in person and in your wedding photos. Effect lighting is the #1 trend in creating a fabulous wedding scene, so think about lighting up your venue's architectural details (like a domed ceiling) in professionally-styled blue colors.
Sharon Naylor is the author of over 35 wedding books, including 1001 Ways to Save Money and Still Have a Dazzling Wedding, www.sharonnaylor.net