For the last year, Vanessa teased Aaron about presenting her a ring, but Aaron made it clear that it wasn't happening anytime soon. Little did Vanessa know Aaron was busy conspiring with close friends to plan the ultimate scenario for a proposal.
After COVID-19 derailed the original plan of popping the question at the Mt. Washington Hotel with a presidential range backdrop, Aaron decided that his surprise proposal would take place in Portsmouth, New Hampshire surrounded by close friends.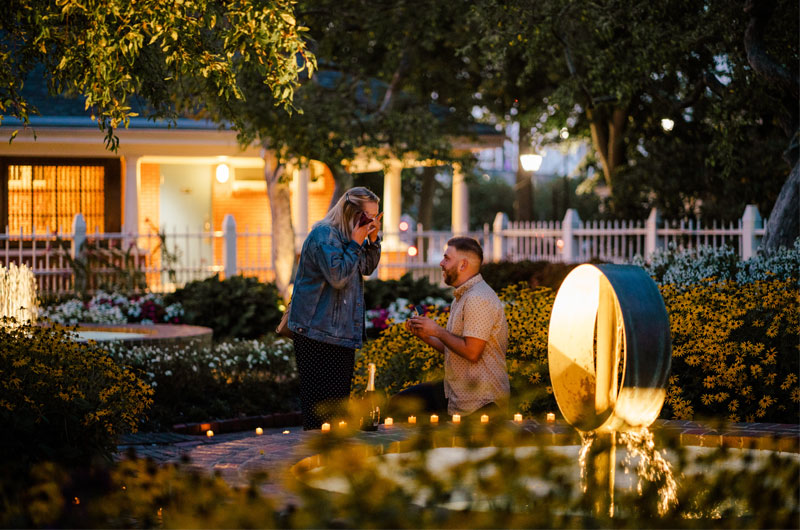 With the help of friends, Aaron searched for an ideal engagement spot in Portsmouth, New Hampshire. But quickly realized the only site worthy of his new proposal was Prescott Park, a waterfront park filled with vibrant flowers and fountains that gave off the perfect glow. Throw in 50 tea lights, a hidden speaker, and a photographer hiding in the bushes, and you have the perfect romantic proposal backdrop.
On the day of the surprise proposal, Aaron and Vanessa traveled south from Maine to Portsmouth for a fourth-anniversary celebration dinner with friends. With careful strategy, dinner plans were suddenly interrupted by Aaron's friend's call that led to Aaron having to leave the restaurant. Vanessa was disappointed with his departure, but what she didn't know was that Aaron was setting up his reimagined proposal. While Aaron was planning to pop the question, the friends at dinner were tasked with getting Vanessa to the park without suspicion.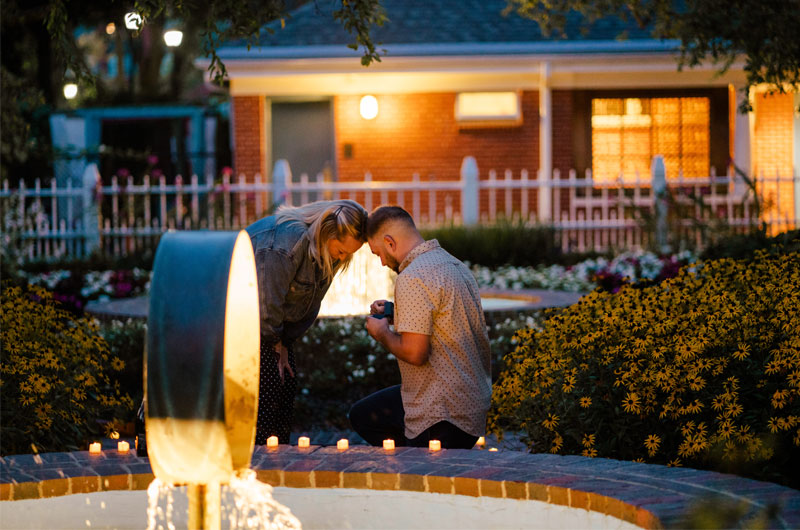 After hearing some very unconvincing excuses for why she had to leave dinner, Vanessa made it to the park. Following a walkway of candles, Vanessa was serenaded by the couple's favorite song, "In case you didn't know" by Brett Young, as Aaron waited for Vanessa to meet him at the end of the path. When Vanessa realized what was happening, tears fell down her face. The proposal that she was told wouldn't happen for a long time – was unfolding right before her eyes.
As Aaron knelt to finally ask Vanessa to marry him, she couldn't help but grab his face, shout a resounding yes, and hug Aaron with all her love. The rest of the evening, the couple spent popping celebratory champagne with close friends and tons of happy tears.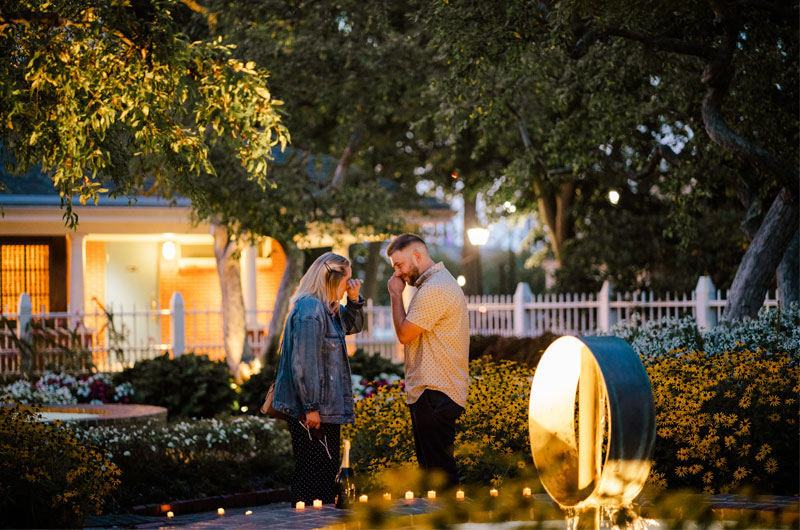 Loving this surprise engagement story as much as we are? Here's another heartwarming proposal that coincidentally took place outside at a beautiful park in Oklahoma City.