Looking for some extra details to set your wedding apart from all your friends? Using unique types of flowers in your bridal bouquet will elevate your look by adding interesting visual affects.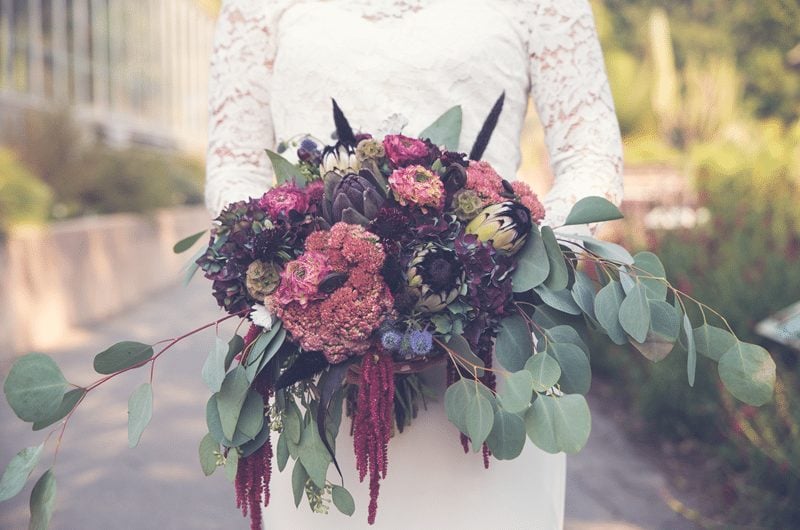 One | Kale: Yes, you read right. No, it isn't a flower, but kale is actually a gorgeous choice for a unique bouquet. It's a standout in terms of greenery, and the purple center gives a pop of color that ensures your bouquet doesn't look like a salad. Accent the kale's purple-toned center with some similarly colored flowers, et voilà, a beautiful and unique bouquet.
Two | King Protea: If you're looking to create a bouquet that your guests have definitely never seen before, use King Protea. The flower will be the star of the show, but air plants and eucalyptus greens will accent it beautifully. This bouquet is perfectly suited for a bride with understated style but still wants to stand out on her big day.
Three | Heliconia: Also known as lobster claws, these fiery flowers would add a massive pop of color to any bridal bouquet. These blooms would be a beautiful accent to an otherwise minimal bouquet, or they could steal the show as the main piece of a gorgeous red-toned arrangement!
Four | Artichoke: This is another food you'd never think to put in a wedding bouquet, but artichoke is actually a stunning addition to a simple bouquet. The artichoke won't be the main course in your bouquet, but it's an accent that's hard to miss, and it can elevate an average arrangement.
Five | Hibiscus: These gorgeous Hawaiian blooms are often overlooked for weddings that aren't in the islands, but a soft pink or white hibiscus is gorgeous in any bouquet. Though hibiscus is a typical choice for an island or beach wedding, it's a bold and beautiful choice for a wedding held elsewhere.