Some parts of your wedding aren't just details﹣they're focal points, and this includes your cake. Your choice of wedding cake can show who you are as a couple and it has the power to turn heads at an otherwise standard reception. A wise bride and groom will choose a cake that both complements the rest of their wedding and that's memorable for all attending.
Wedding planner John Gandy of John Gandy Events in Tallahassee, Florida recognizes a wedding cake's showstopper potential. "I encourage (the couple) to create a focal point for the wedding cake and showcase its uniqueness. A wedding cake gives the couple the opportunity to express themselves through design, flavor and presentation," he says.
With these 6 tips, you'll have no problem curating an epic wedding cake.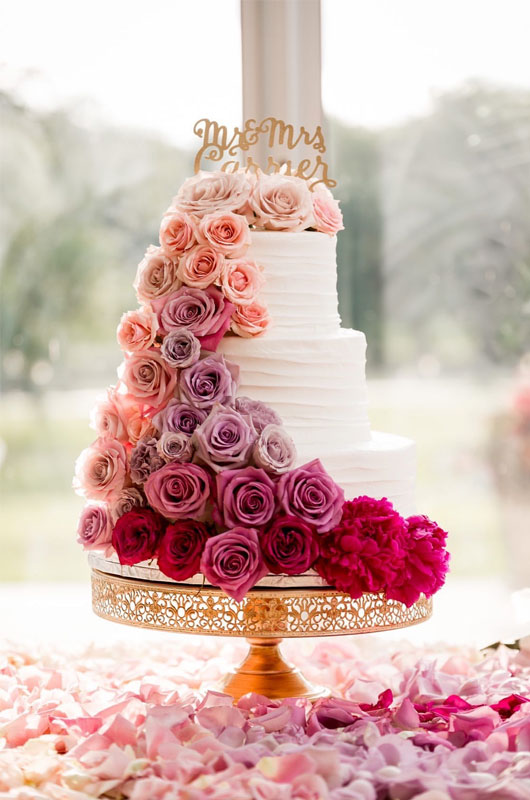 Wait until other wedding details have been chosen.
Your wedding cake should reflect the theme or overall feeling of your wedding, so it's important that you make those decisions first. You will want to know your wedding's season, venue, and time of day, as well as whether your wedding will be a casual or formal affair. It's also helpful to choose colors and even flowers before you visit a bakery.
Gandy suggests to wait on selecting a cake "until you have made some key design choices. What you may envision at the beginning of planning may actually be a little different once you select your wedding dress, venue, and florals."
All of these choices together will create a roadmap to the type of cake you want to serve.
All wedding cakes are not equal. Sometimes gorgeous cakes taste terrible, and other times delicious cakes are badly decorated. Gather some resources before you choose bakeries to consider. Did you enjoy a wonderful cake at someone else's recent wedding? Find out who made it. Talk to friends about their wedding cake experiences. You can also seek recommendations online, but remember that online reviews can sometimes be unreliable.
Bakeries should be able to show you examples of wedding cakes they have done before. Pay attention to what each bakery excels at. Some bakeries might make stunning traditional cakes but have trouble with more out-of-the-box requests. The bakery you choose should specialize in the style of cake you want.
It's very important that you taste some cake before you decide who will be baking for your big day. Take some time to visit several local bakeries and have fun ordering some of their offerings. Then make a list of those you really liked and schedule an official tasting. You may have to shell out some money for the session if you haven't officially signed a contract, but it's well worth it to know what you're getting into.
"We truly believe that taste is just as important as the design," says D'Anne McCune of Designs by D'Anne in Jacksonville, Texas. She also notes that the tasting consultation is a good time to talk about design options as well.
Request personalized flavors.
Be sure to find out if your flavor options are limited. Unless you really like a traditional flavor, you will want to find a bakery that is willing to take requests. A memorable wedding cake is probably not going to be simple vanilla with a fruit filling. The best wedding cakes are often made with more exciting flavor combinations. Try to work with a baker who is excited to brainstorm new ideas with you.
Keep in mind that you don't have to go with a traditional wedding topper. If you want the standard bride and groom or your initials standing on top of your cake, that's okay. But remember that there are other choices. Fresh flowers and fruit can be beautiful cascading down a cake. You may prefer a topper to match your wedding theme, like a pair of marzipan cowboy boots or miniature vintage goblets. Fairy lights, candy, snow globes, and even LED fountains are other choices﹣the options are endless.
Listen to the suggestions your baker has to offer. Many skillful decorators can make almost anything out of fondant or sugar.
You have almost unlimited options when it comes to your wedding cake. A traditional layered cake is wonderful, but you can also serve a sheet cake or cupcakes. Maybe you want each layer to have its own flavor or several flavors mixed together in the same layer. Have a cake that is decorated elegantly on one side and playfully on the other. Or choose a cake that reveals a beautiful rainbow of colors when it's cut. 
"I love being challenged by a bride or groom," says Danielle Kattan of Danielle Kattan Cakes in Winston Salem, North Carolina. "New flavors, techniques, and mediums are always welcome when customers call me."
Your wedding cake is an important part of the big day, so take advantage of the opportunity to make it a showstopper. Know generally what you want before you shop, but be open to creative ideas as well. With the right baker, your wedding cake will be as epic as the event itself.