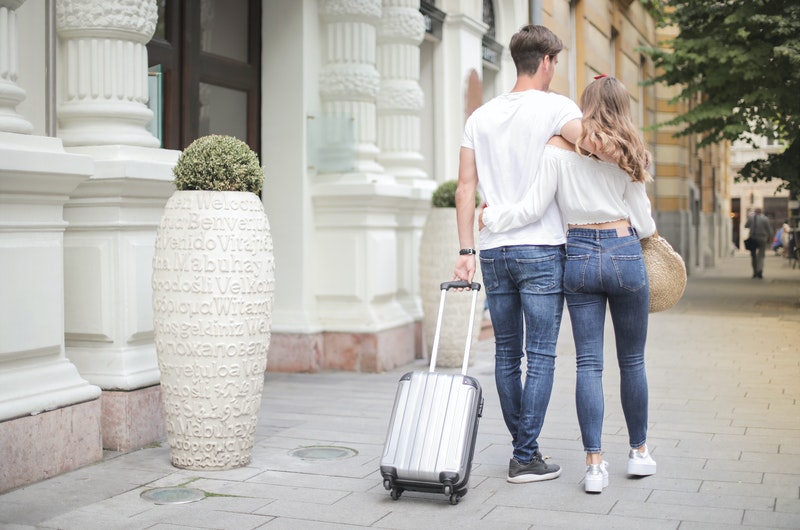 Whether you're newly engaged or you've just tied the knot, at some point or another, chances are, you're going to be wrestling with some tough budget choices faced by newlywed couples. Do you spend money on that honeymoon? Splurge on the wedding? Or do you start saving for a house? Okay, that was three questions—But these big questions remain, and have many couples in 2022 wondering:
What are my options?
So much so that Netflix's new series
Marriage or Mortgage
, features a real estate agent and a wedding planner vying for the approval of couples who will either choose between having the ultimate wedding or getting the home of their dreams. Thankfully, whether you've gotten married yet or not, you can still have the best of both worlds when it comes to enjoying a fantastic honeymoon and purchasing a new home, and all it takes is a solid plan.
Discuss Your Priorities
If you've just gotten married or you're in the midst of planning you'll know that weddings are expensive. If you feel like you are or could be at risk of financial strain, before making any big money moves, make sure you and your partner are on the same page about what your priorities and expectations are. 
Consider these few important questions you should ask yourself and then discuss things like the goals you envision for each other, plans for getting there, and the things that will either help or hinder your progress. Hammering out the finer details of your ideas and expectations before setting any ideas in stone will benefit your plan on a long-term scale as you make adjustments in the future.
An estimated 2.5 million weddings are expected to take place in 2022, according to the Wedding Report. Without a doubt, the travel and leisure industry will see its fair share of profits, since couples typically spend around double their original spending budget. Similarly, In January, the median price of a home in the U.S was $350,300 according to data from The National Association of Realtors.
If you want to have your cake and eat it too, make a list and explore your wants and needs and how that relates to your financial situation and goals for the future. Maybe that means you need to explore your minimoon options or consider a fixer-upper for your first home. You might not get all of your wants, but knowing where to compromise is a failsafe way to explore your options and make a plan so you can prepare for the road ahead.
Check Your Financial Wellness
Your credit score can take a hit if you have an overlap in big purchases, so be mindful of how much you spend within a short timeframe. This means that sometimes it's not a good idea to try and add more debt.
Understanding the credit score you need to buy a house is a good place to help you get an idea of your overall financial health before making big purchases on either the honeymoon or a house.
Checking your credit health is always something that should be done on a semi-regular basis, especially if you're looking to pay off debt together. So incorporating this step into your money practice makes good financial sense. It's also a beneficial first step if you're looking to get preapproved for a mortgage, so it's a win-win!
Understanding the difference between a healthy credit score and a damaged one will put you in the position to have a solid grasp of how much of anything you can afford so you can set up a realistic budget and build reliable money habits.
Make A Plan And Keep A Budget
Planning for the future can feel overwhelming, especially when money is involved. But when you determine your must-haves for the honeymoon and the things you can't live without for your new home, you can decide where you can compromise and where you can cut costs. When you plan the costs of your honeymoon and housing goals, know what you're looking for before you make any concrete decisions.
Before you set up a budget though, one of the first things you should do is to combine finances as newlyweds. Having a primary checking account, and even separate savings accounts, for your honeymoon and house funds is an easy way for you to organize and analyze your finances. Once your money is organized, you can start planning how you want to set up your budget. Obviously, a budget doesn't save on your overall cost of purchases, but it can definitely help you reach your financial goals. Use your budget to track your spending every month and make adjustments as needed to stay within your spending limits. Once you do this consistently, you'll begin to understand your pitfalls and spending habits (good and bad). From there, you can reassess your budget so that you're meeting your goals and keep a plan that works for you.
Know Your Options
Having an amazing honeymoon and a new home is not unattainable. There are many ways you can get the best of each. In some cases, money might not be the reason why people opt-out of the go big or go home logic. Some couples just want to be super savvy with their spending. Whatever your budget and however you plan, having a solid understanding of your options is the key to optimizing the outcome of your goals. Here are some options to consider:
Home Buying Options
If you are a first-time homebuyer, there are several programs structured to fit your budget and help you achieve your homeownership goals. National home buying programs through the U.S. Department of Agriculture and the Federal Housing Administration are both considerable options to consider. The USDA has options such as the Single-family Direct Home Loan program for low to very low-income homebuyers, as well as the Guaranteed Loan program for moderate-income buyers. If you're eligible, you could also qualify for assistance on your down payment. FHA loans have fewer requirements than the USDA does and are great if you want to score a lower percentage down on a mortgage rate.
Honeymoon Resources
Depending on honeymoon plans, there are several ways to make the most of your money—and your honeymoon. If your budget is moderate, consider getting a credit card that accumulates travel points, so you can make your money work for you and save on travel expenses or destination honeymoon. A more budget-friendly choice would be to consider a honeymoon package—however, know that not all honeymoon deals are not the same, and make sure to understand what is and is not included. If you don't think a traditional honeymoon is up your alley, think about taking a domestic road trip or creating an amazing staycation.
Similar to your home buying options, the ways in which you design, plan, or budget your future goals is only limited by what options are best to suit your needs as a couple. Getting comfortable with each other about difficult money talks is one of the best ways to create a solid marriage foundation. No matter where your lives take you, you'll know that the best of both worlds is one you walk together.
Hopefully you have found some ways to deal with the tough budget choices faced by newlywed couples.