Margeaux Chase & KeeRyde Talasan
November 8, 2020
Austin, TX
How'd you two meet?
We met by chance in 2014. We were both visiting Dallas, and both our groups ended up at the same bar. Our friends insisted that we exchange phone numbers, and we kept in touch even after he went back to New Jersey and I went home to Austin. We dated long distance for a while and both moved to Dallas in September 2015. Everyone said it was quick, but we've been together ever since.
Where was your first kiss?
At Mount Bonnell, a scenic overlook park in Austin!
Who said I love you first?
He did 🙂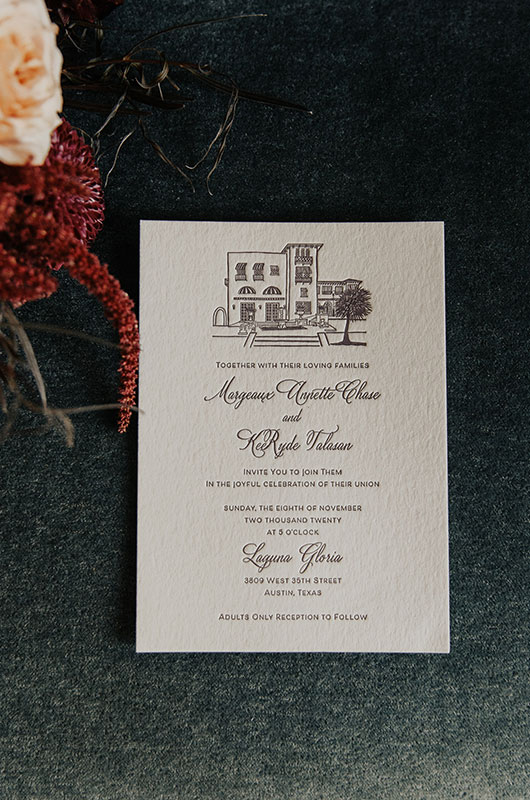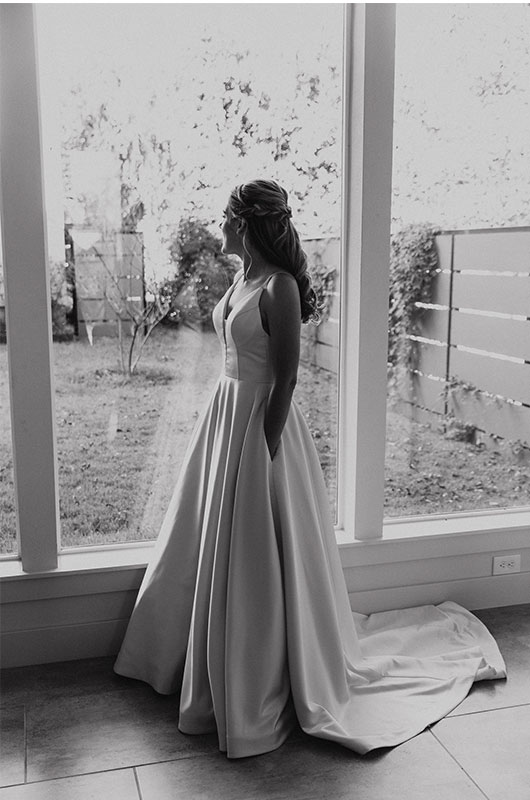 Early risers or night owls?
We're both night owls!
Who's the better cook?
KeeRyde
Favorite ice cream flavors?
We are ice cream fanatics! It's our go-to "junk food." We're always walking to our neighborhood ice cream shop, Melt. KeeRyde always gets sweet cream vanilla, and my go-to is blackberry pie (it's a seriously underrated flavor!).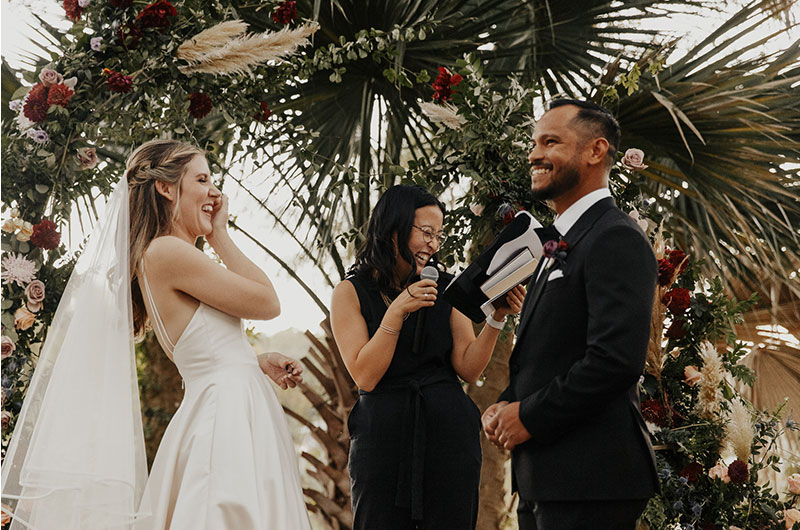 What did you do for your bachelorette party?
We went to Denver while the groomsmen went to Portland, Oregon. I love the outdoors, so we hiked and boated and even got to do an alpaca experience where we met, learned about, and had fun with a bunch of alpacas!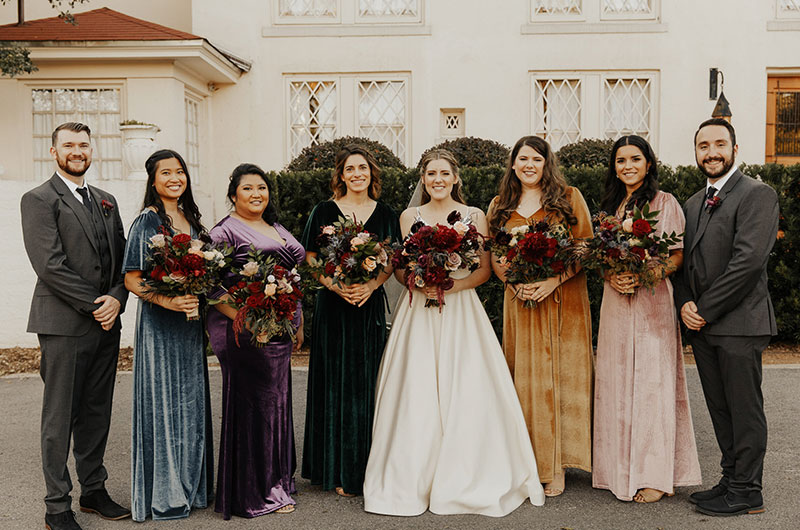 Did you have a first look? To see or not to see?!
The first look was so great because it definitely calmed our nerves before the big event began. We were both so tired! Both of us had only gotten a few hours of sleep the night before.
Any special guests?
Our dog Jarvis walked down the aisle with the groomsmen. We had him in a suit harness, and he looked adorable! You could also spot him with our friend, Tessa, on the dance floor later that night.
Favorite private moment?
The getaway car. After our send off, we had about a ten minute drive to the hotel and were able to just sit with each other and talk about what a great day we had.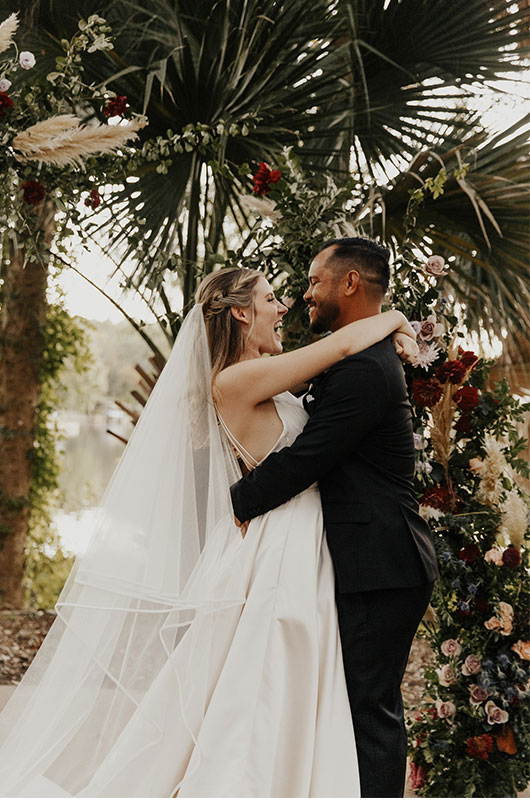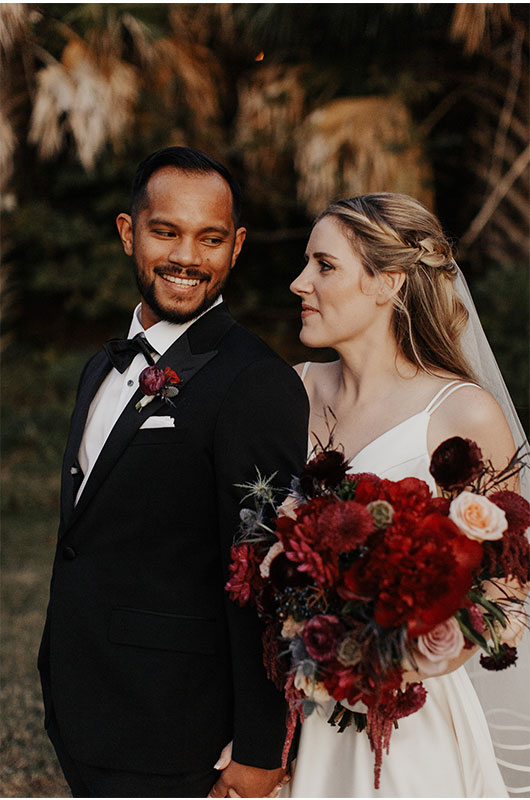 First dance song?
"Coming Home" by Leon Bridges. He's from Fort Worth, Texas, which is where we live.
Best dish of the night?
The pulled pork adobo sliders as one of our passed apps during cocktail hour. My husband is Filipino, and we got them from a local Filipino restaurant, Carabao Express, in Austin.
His or her cocktails?
We actually opted to do his/her coffee drinks! They were: Marg's Mocha, a lavender white chocolate mocha, and Kee's Cold Brew, a sweet cream vanilla cold brew (of course).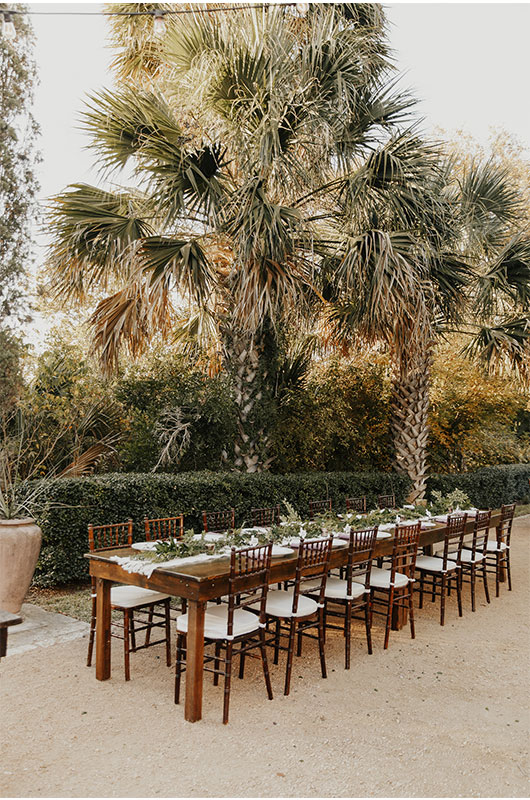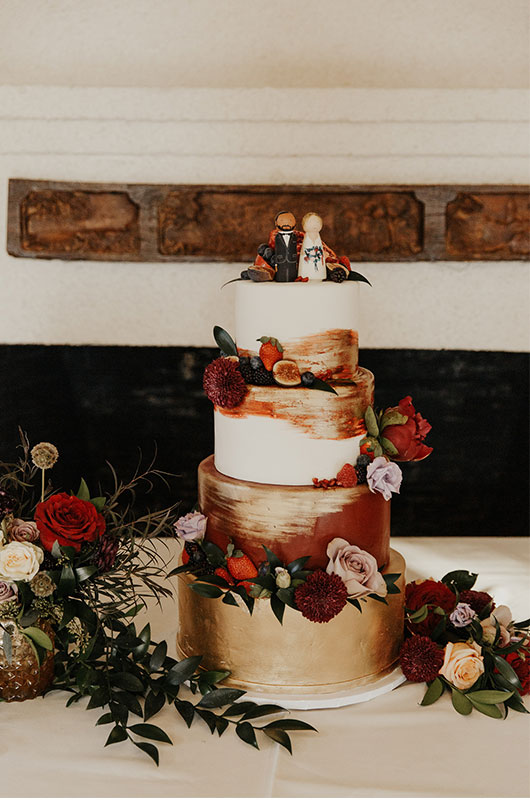 Margeaux Chase and KeeRyde Talasan married on November 8, 2020, at the Contemporary Austin in a gorgeous outdoor ceremony officiated by one of the couple's closest friends. As guests arrived to be seated, a violinist set the tone for an evening full of love and celebration. The bride's father walked her down the aisle, where she m et KeeRyde in front of a large and lush arbor adorned with florals and palm tree leaves.
Following an intimate ceremony where Margeaux and KeeRyde read their handwritten vows aloud, guests enjoyed a cocktail hour where delicious Filipino appetizers were passed. During the reception, tearful toasts were shared, and the bride and groom had their first dance before guests joined in. In playful Austin style, the dinner menu consisted of street style good from a taco truck, a mobile pizza oven, and a gelato cart. Following the cutting of the cake, family and friends showered the couple with rose petals as they made their exit. The newlyweds are most appreciative of their wedding coordinator for ensuring plans went as scheduled and hope to honeymoon in the near future.