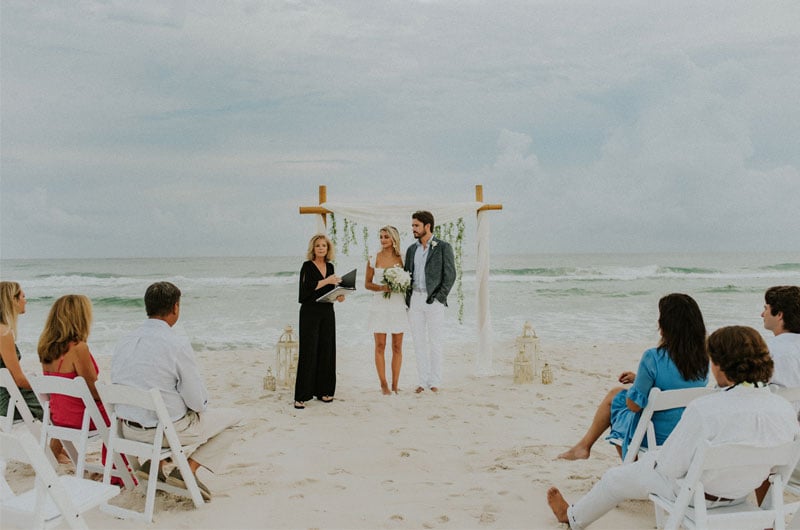 Jake Kinsinger planned the perfect proposal to Betsy Stanfield: He invited all of their friends and family to a big weekend at his house in Nashville to be present for the milestone. All went as scheduled – and everyone arrived on time – except the ring! When the jeweler called him the following Friday, Jake relayed the failed plans.
Kindly, the jeweler arranged another chance for Jake to pop the question by making a reservation for Jake and Betsy at a small romantic restaurant. As they sat across from each other at a patio table settling into their surroundings, Jake, so nervous with the ring in his hand, proposed while Betsy was reviewing the wine menu! Both were too excited to eat; they only ordered a bottle of champagne and left to celebrate!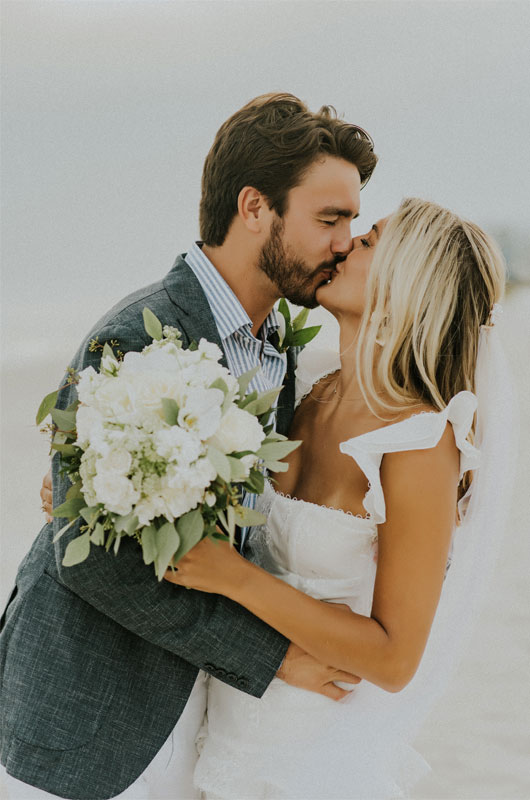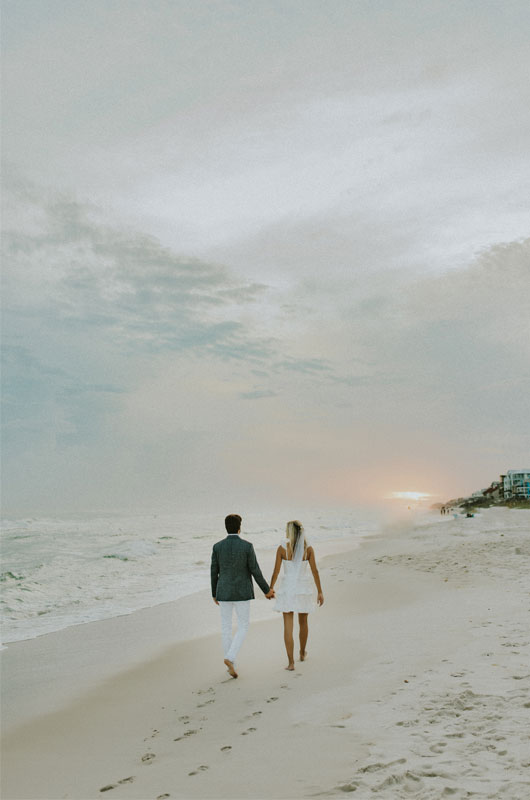 Since Jake and Betsy made their wedding plans in the middle of coronavirus, they were forced to postpone their wedding three times. Determined to experience the joy of celebrating their love with their families, they decided to host a small, intimate beach ceremony. The two instantly knew that they should go down to the Gulf Coast, a place they spent a lot of time together early in their relationship. Although Betsy wasn't quite ready to give up the wedding she had been planning for, Jake's contagious excitement ultimately won her over. The two began planning their reimagined wedding just three weeks out.
However, even their reimagined wedding didn't seem like it would go to plan. The couple woke up to a rainy, gray morning with a forecast promising the same weather throughout the day. Betsy spent most of the day on the phone with her vendors. But finally, the storm cleared into a dreamy, after-rain beach sky at 5:30.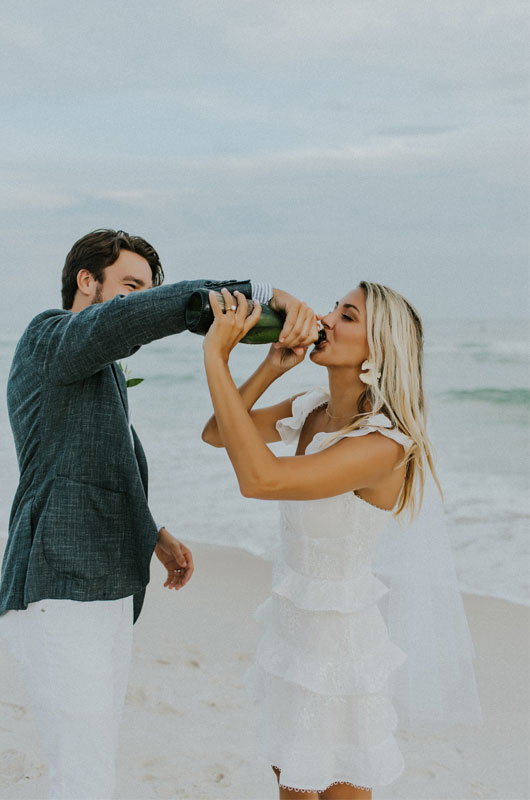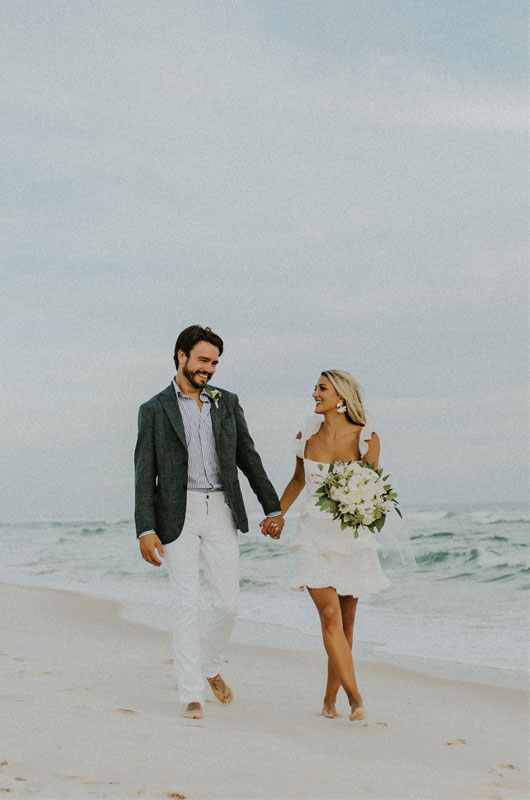 Skies clear of rain, Jake and Betsy pronounced their vows amidst a dreamy sunset, followed by a festive bonfire and shrimp boil. The newlyweds ate, drank, and danced with their families. Betsy's mixed feelings about having a small ceremony disappeared in those moments, replaced with gratitude that Jake had pushed her out of her comfort zone. The two will forever cherish and talk about that night, and the overwhelm at the abundance of love and support they received. The two are looking forward to celebrating with their larger, more extended group of friends and families next summer-COVID permitting.
Just as Jake and Betsy had to alter their wedding plans, they were also faced with rethinking their Tahitian honeymoon. Having canceled and rescheduled multiple times, Jake decided to book an Airbnb right on Seaside, Florida's town circle. They could walk or bike wherever they wanted, and the beach was only a two-minute stroll away. The newlyweds even extended their stay one more night because they weren't quite ready to leave.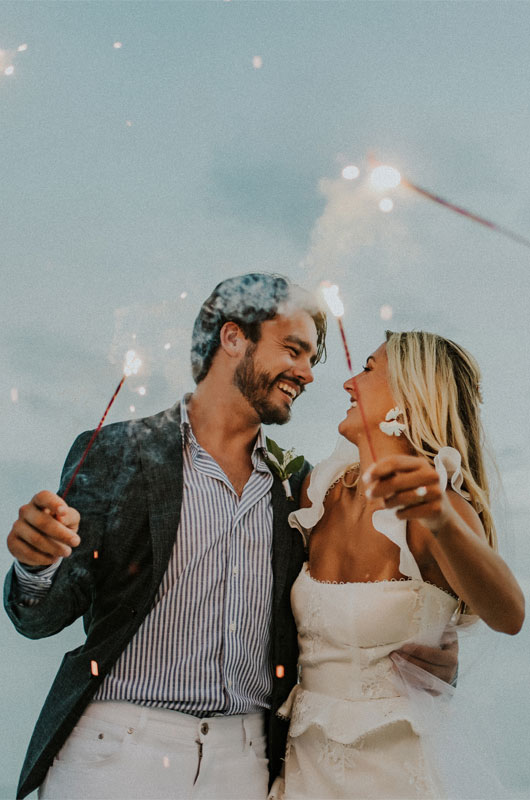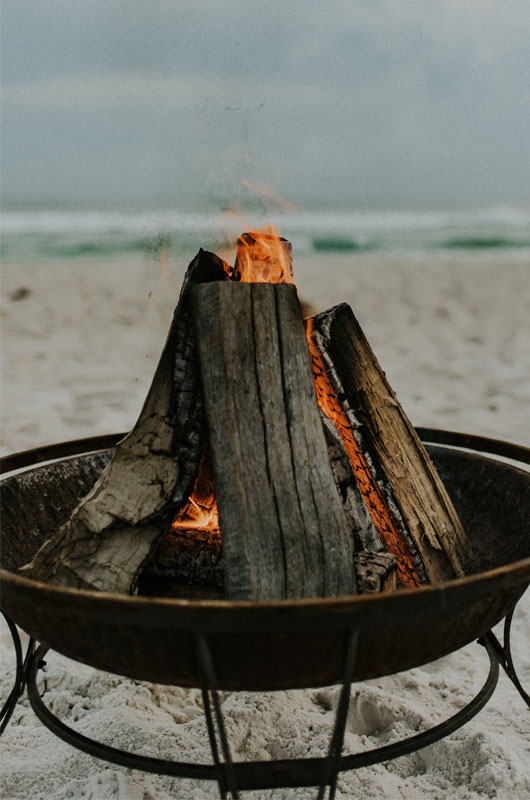 Although Jake and Betsy did not plan their proposal, wedding, and honeymoon to look as it did, they realized that their love was the most crucial aspect of their celebration. It didn't matter where they were or what they were doing, so long as they could be together.