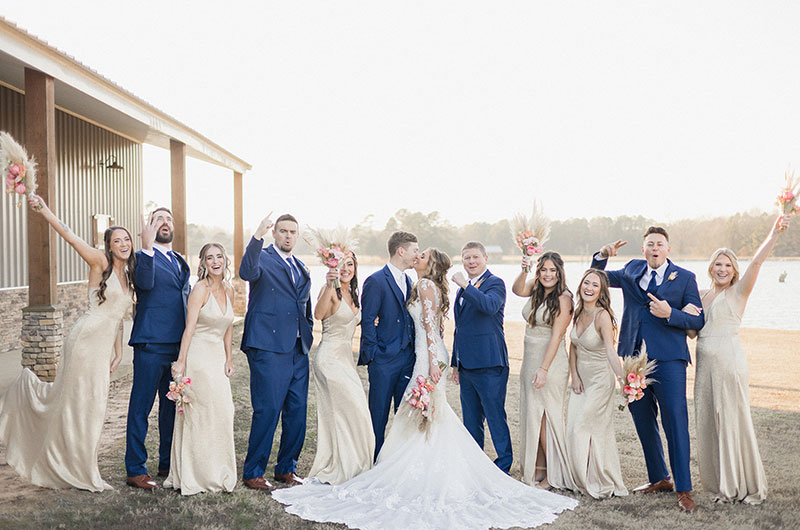 Ashton Williams and Tyler Zuber
January 22, 2022
Quitman, Arkansas
Ashton Williams and Tyler Zuber married at Fawn Hollow in Quitman, Arkansas, in an elegant ceremony that "tied the knot" between their mutual passions of horse showing and baseball. Ashton, a founding member of the University of Arkansas Ranch Horse Team, was born into a horse showing family and participated in two national champion titles. Tyler, a professional baseball player, debuted with the Kansas City Royals in 2020 and now plays for the Arizona Diamondbacks.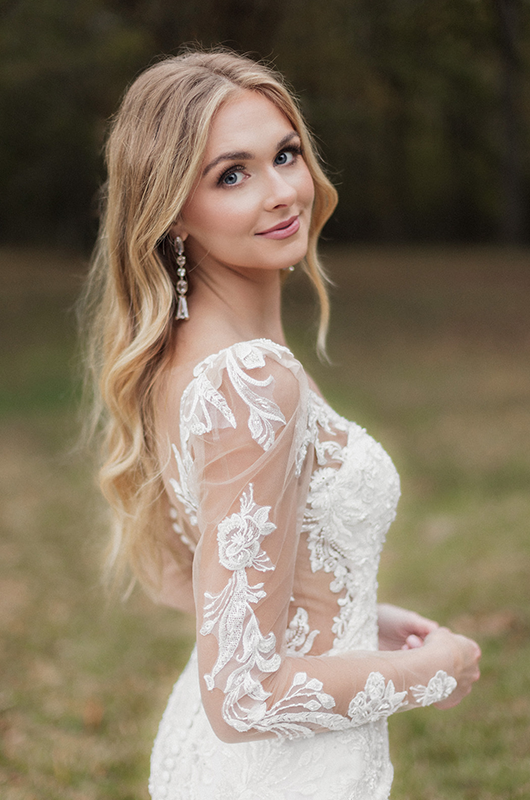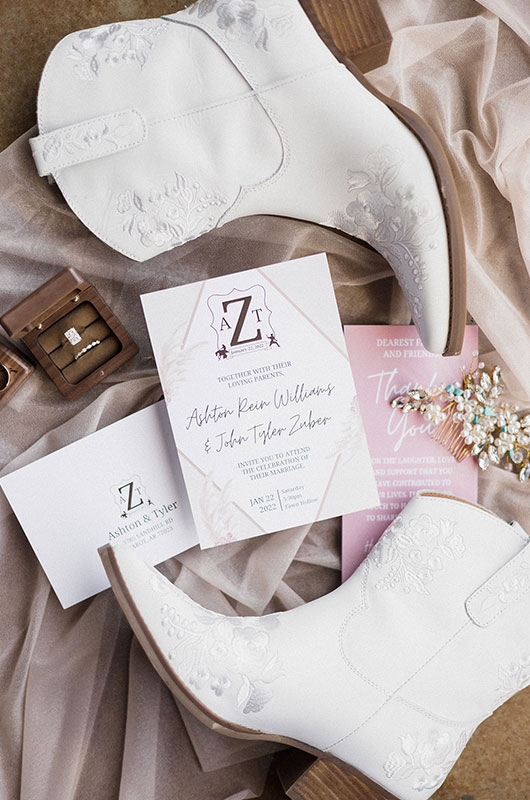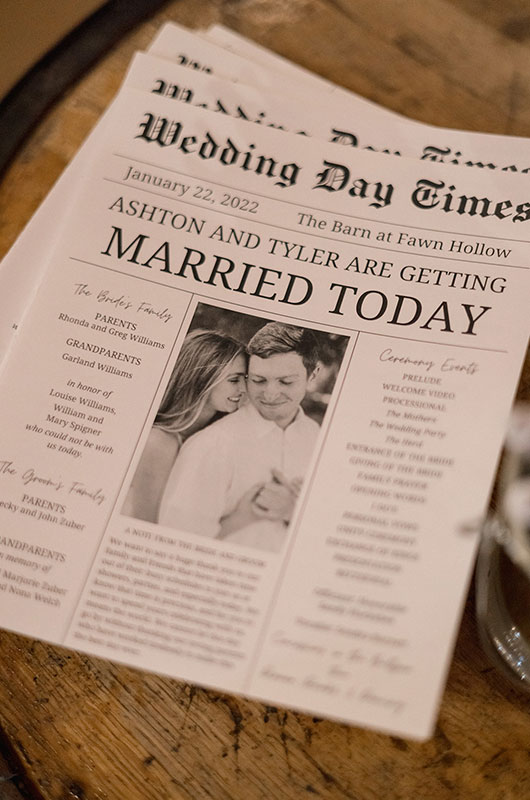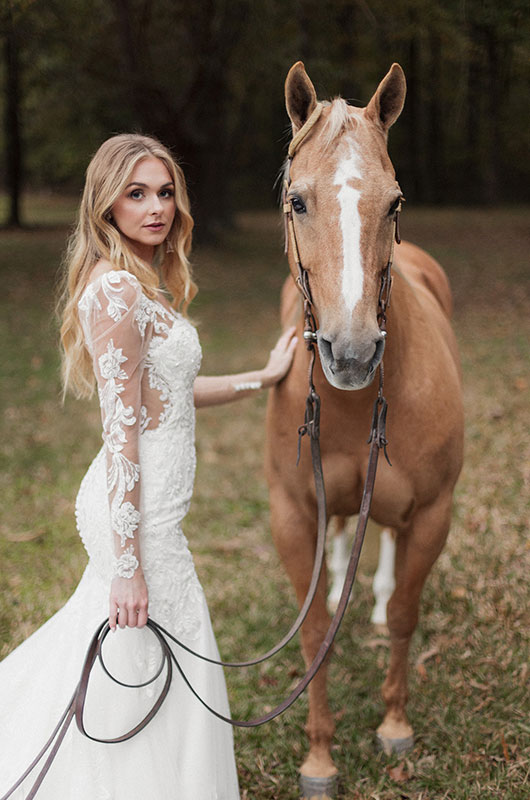 To complement her love of showing horses, Ashton wanted a boho formal feel for her big day. She chose the first dress she tried on at Low's Bridal: the lace detailing created a classic, vintage-western feel, and its puffy sleeves added something special. Ashton curated a pink and champagne color scheme out of florals and lots of pampas grass. She and her mom visited local neighborhoods and businesses, asking if they could cut plumes off their pampas grass. Little by little, they gathered their collection, and the two cut over 600 stems of pampas grass!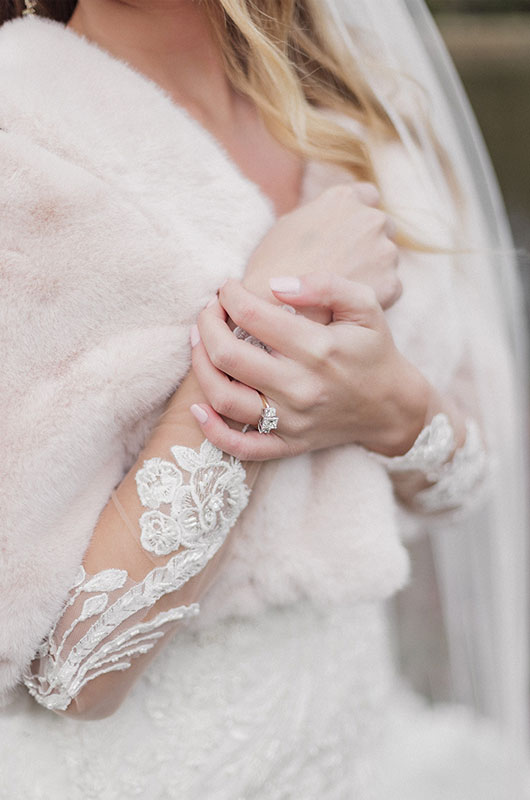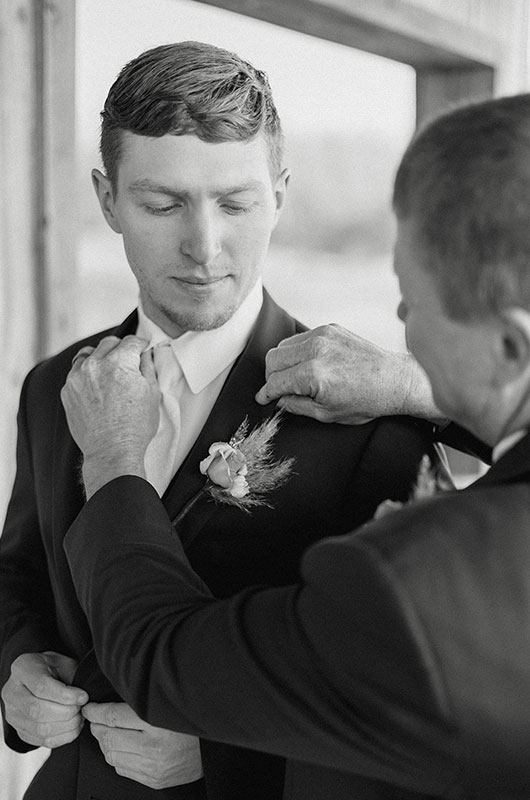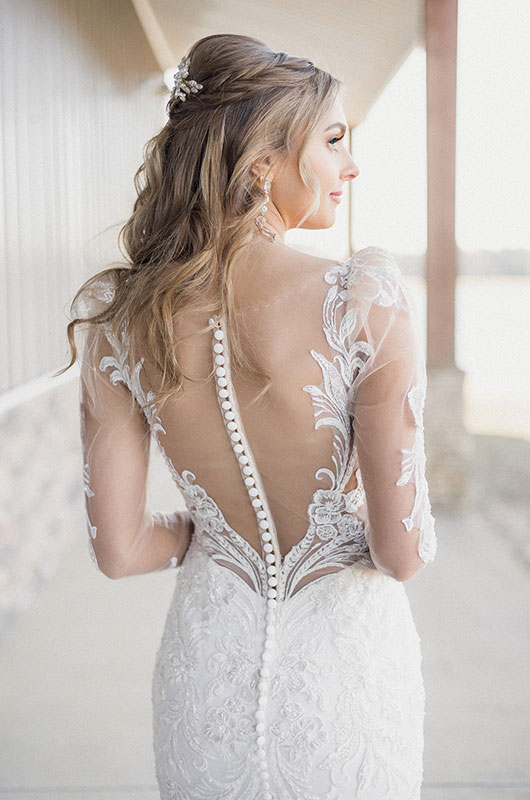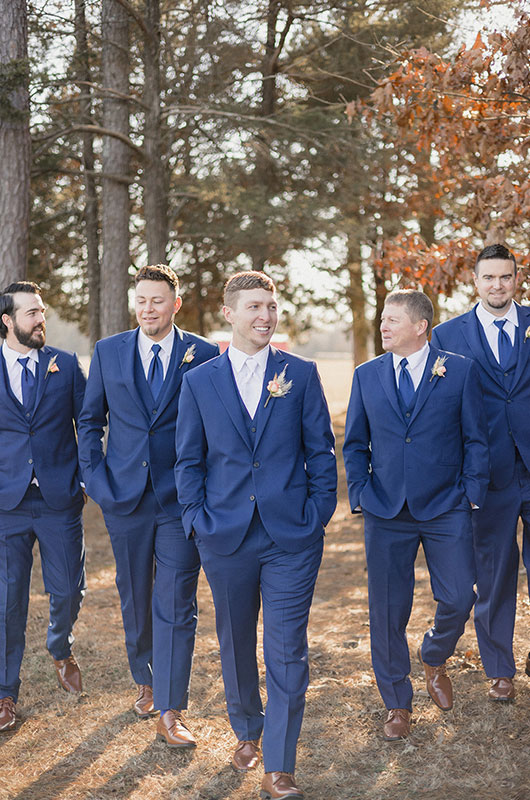 On the morning of the wedding, Ashton and her bridal party soaked in their "Hallmark Movie" set-up, waking up in Fawn Hollow's lodge that overlooked a sprawling piece of property dotted with ponds and two cabins. The bridesmaids got ready in one cabin, and the groomsmen the other. Ashton's aunts hosted a bridal breakfast, serving heart shaped waffles on her grandmother's china and (of course) setting up a mimosa bar. An hour before the wedding, Ashton and Tyler did a family first look  so the couple could take photos with their family before the sun set.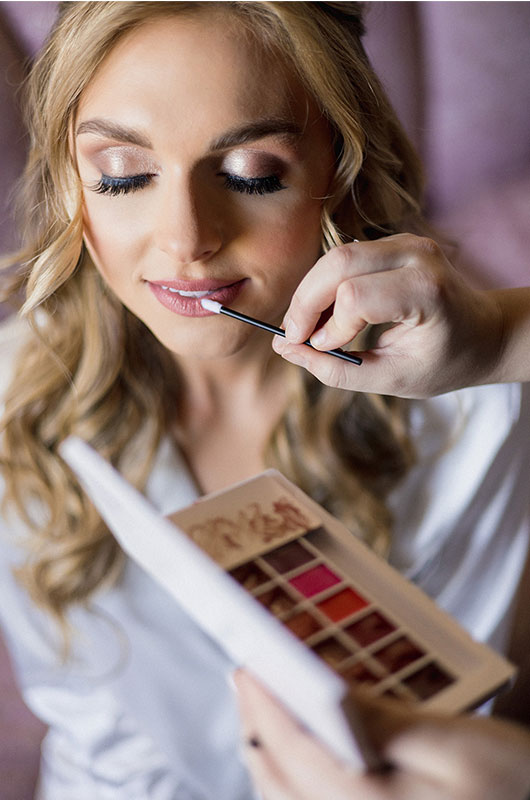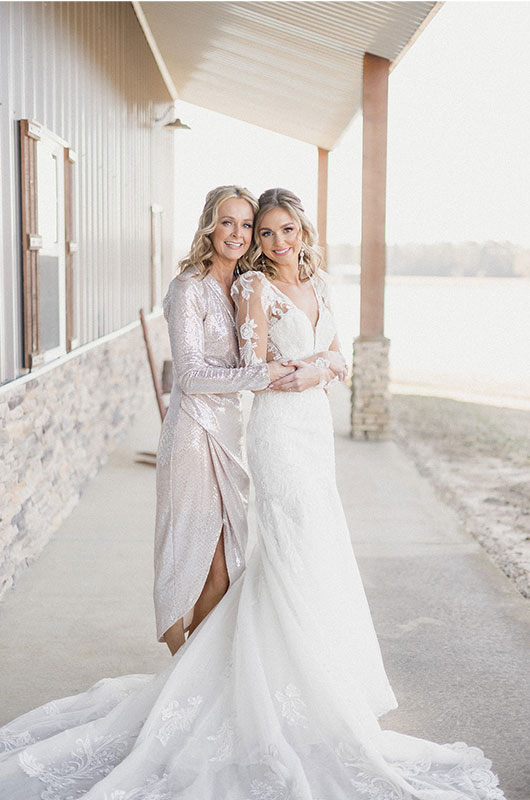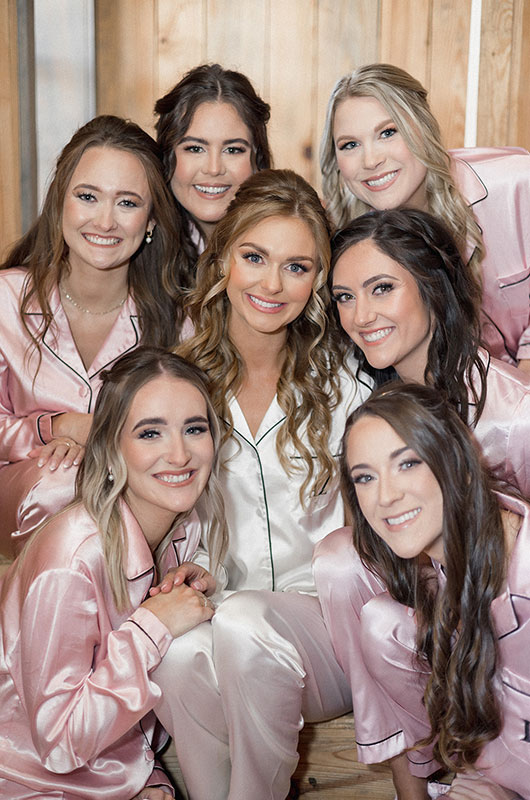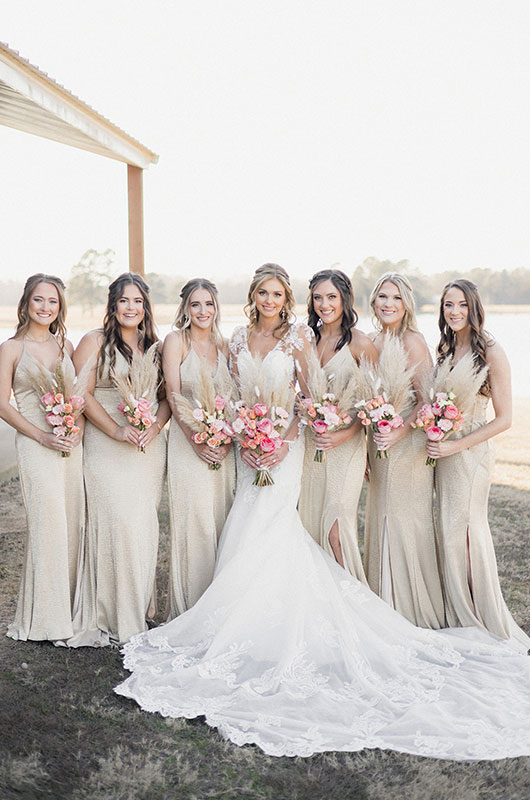 Ashton had kept a note of special things she wanted to do for her wedding since she was fifteen years old. Her top priority was to keep her guests informed during the wedding. She arranged a four-page ceremony program, including the bride and groom's personal histories; their love story; her somethings old, new, borrowed, and blue; and the story behind their unity braid, made of lace from a baseball and a strap from a saddle. Their ceremony began with dimmed lights, a projected video of Ashton's grandfather reading 1 Corinthians 13:4-8: "Love is patient, love is kind…" accompanying Tyler and his mother's grand entrance into the ceremony space.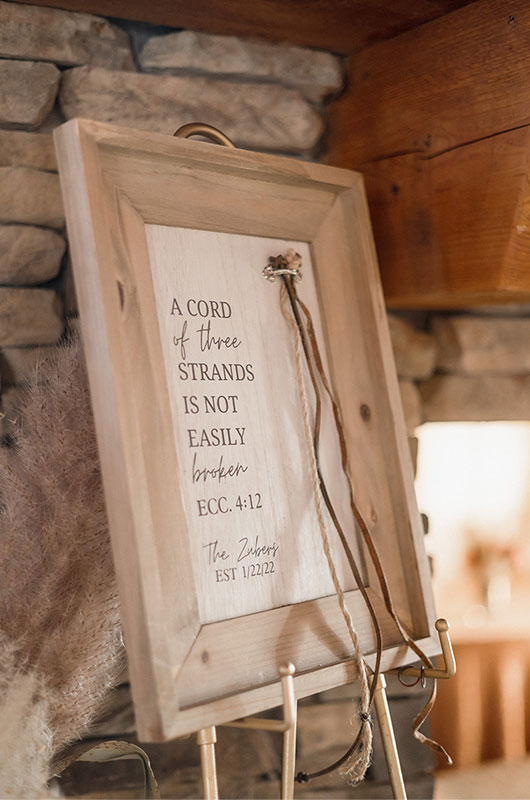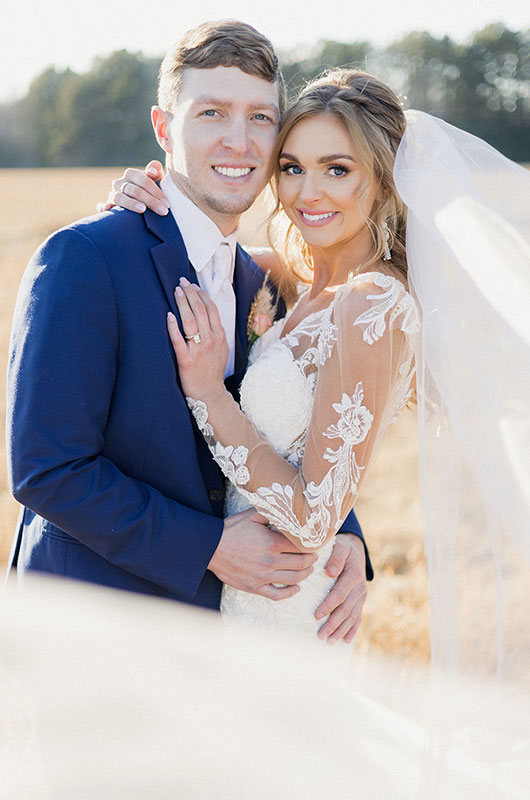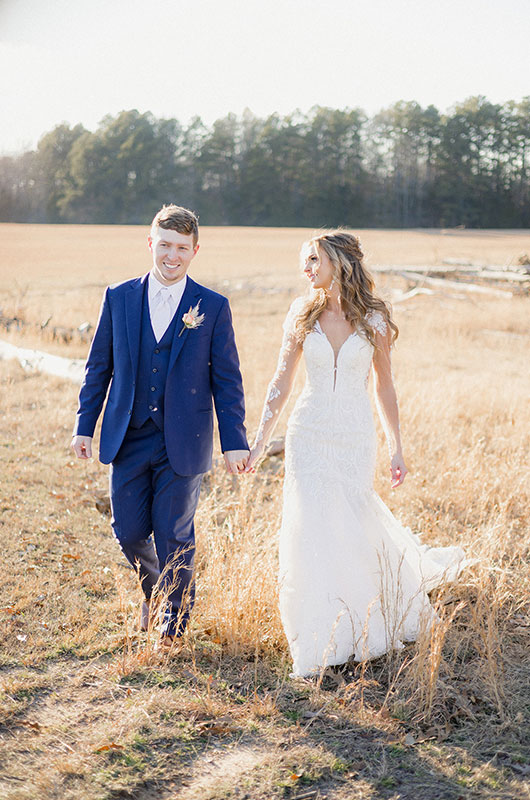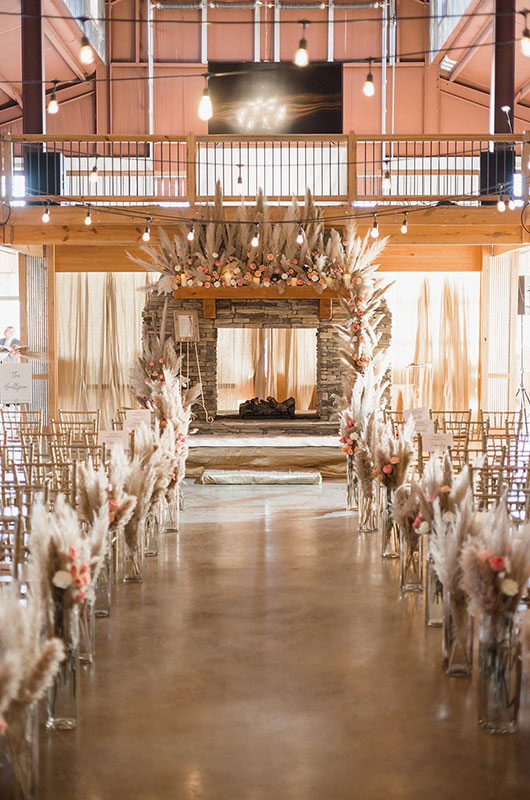 After their officiant signed their marriage license, Ashton and Tyler's ceremony seamlessly transitioned into their cocktail hour. Guests made their way to "The Bullpen" to enjoy his and hers cocktails and ballpark themed appetizers. After cocktail hour, reception
festivities began with a surprise dance from the mother of the bride and father of the groom. Afterwards, the cake was rolled on a cart to the middle of the dance floor, and DJ kept the guests engaged during each moment of the reception before they sent off the newlyweds with a sparkler-filled, dazzling firework sendoff.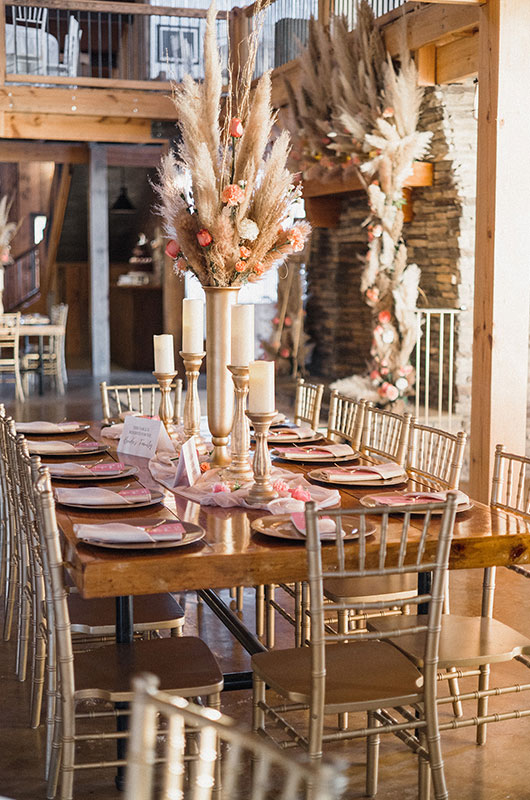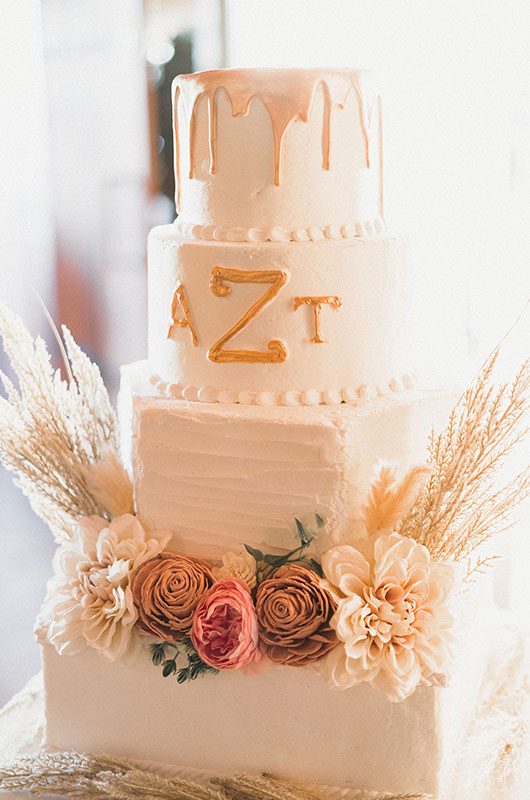 How did you two meet?
We were introduced through mutual friends in 2020 and spent a few weeks texting before we met in person a few weeks later at a group activity. We clicked immediately and went on our first date a few days later. Tyler had an emergency appendectomy two days before our first date, and he still picked me up! We both knew in those first few weeks of getting to know each other that we were going to get married. Almost 9 months to the day after we met, Tyler proposed on the AAA affiliate baseball field in Omaha. He set up big marquee letters, a drone, and photos of us throughout the stadium, and he read a letter to me that was displayed on the big screen. It was an incredible, over the top proposal.
How was your first look?
Tyler and I wanted a first look so we could have more time to spend together during the day. We read letters to each other back to back, and then Tyler turned around for our first look. We were both overcome with emotions, shivering in the January cold, and so comforted to finally be with each other. I would re-live that moment a thousand times. 
Afterwards, we did our family first look. We snuck in through the main entrance, through the foyer, and opened the big doors to our entire family. With how busy a wedding reception can be, trying to speak to everyone and those who have traveled far to celebrate with us, it was wonderful to have intimate time with our families. They were able to see my dress and details up close, ask us how our day had been, and give us sweet advice for the evening.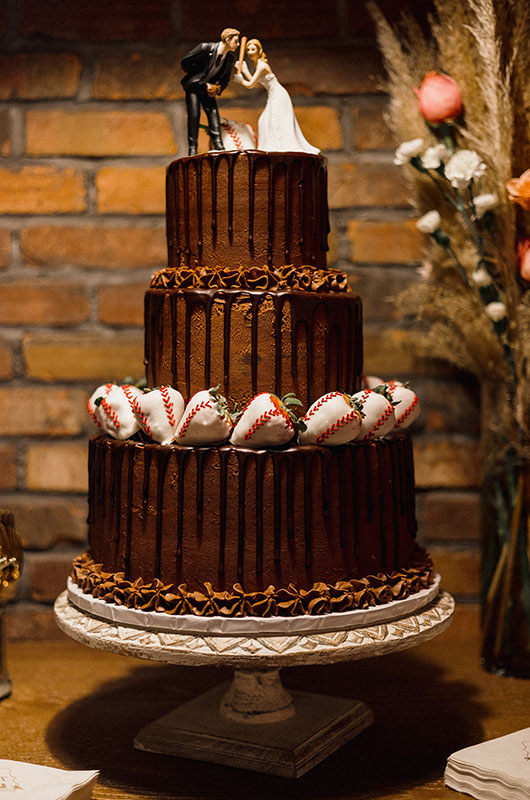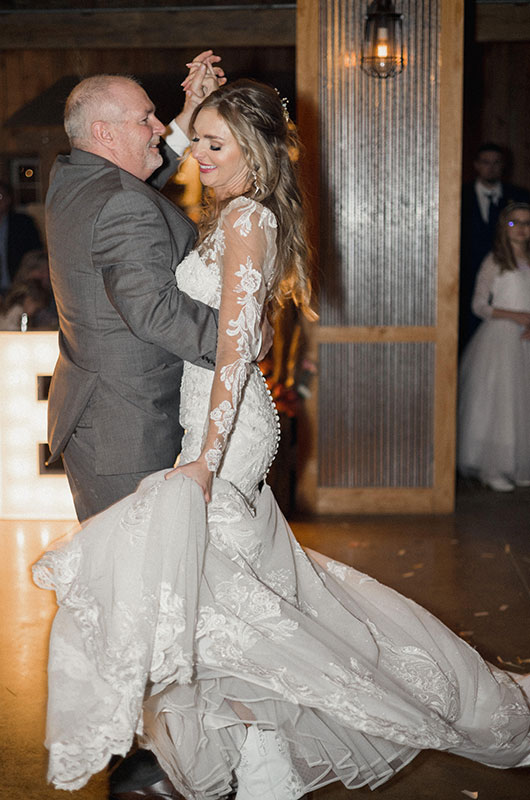 His and hers cocktails?
We leaned into our ongoing theme of combining our loves of baseball and horse showing. Tyler loves margaritas, so his signature drink was a Sliderita. A slider is a type of baseball pitch and reining horses are known for doing sliding stops. I enjoy more fruity cocktails, so my drink was a rum fruit punch called a Punchie Punchy. A punchie is a strike out and a talented worker on a ranch is called "punchy." We also served gourmet sliders as our meal!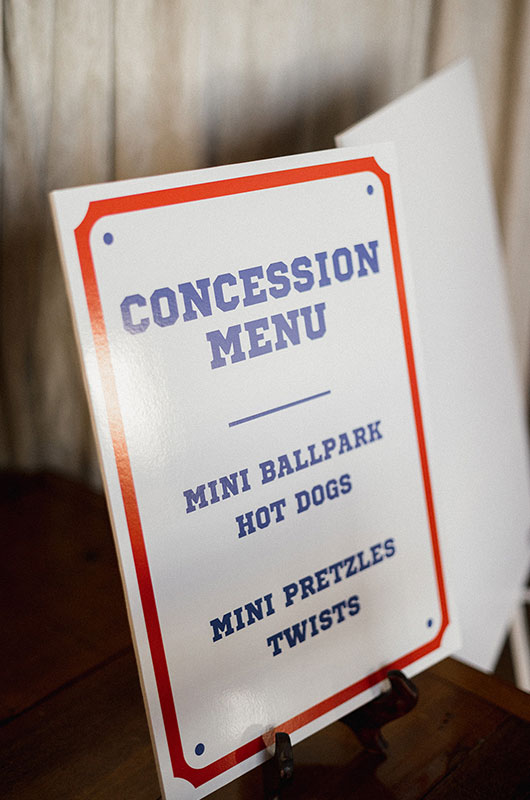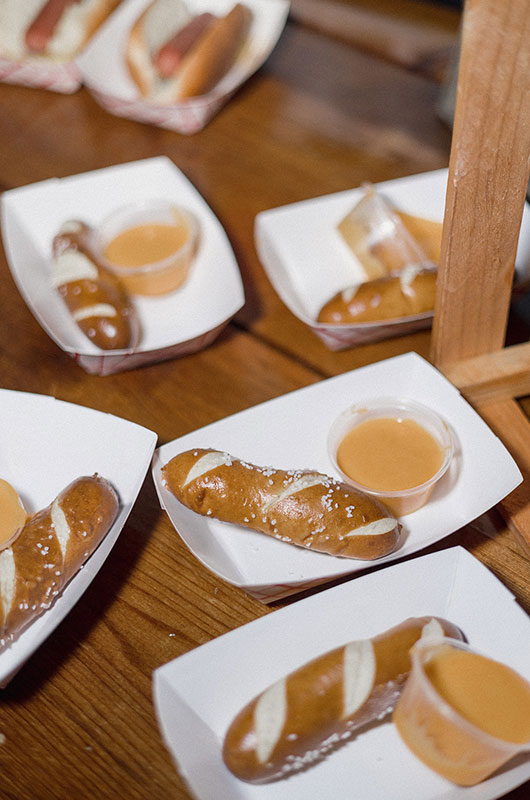 Any honeymoon plans?
We were married a week before Tyler would report to Arizona for Major League Baseball Spring Training. We decided to go directly to Arizona and have a "mini-moon" in Sedona for a week. It was still cold in that area, so it was a week of relaxing by the fireplace. We recovered from post-wedding exhaustion, enjoying beautiful scenery and getting our first couples massage. Tyler even surprised me with a hot air balloon ride! In November 2022, we took our official honeymoon to the Bahamas and happily soaked up the sea and the sand.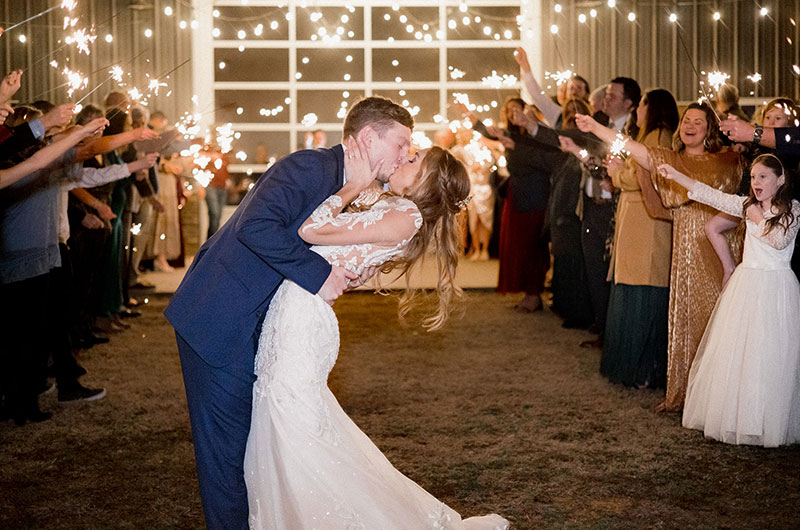 Photographer: Cameron and Elizabeth | Ceremony Venue: Events at Fawn Hollow | Rentals and Decor: A Perfect Bloom| Caterer: Fowl Smokin' Swine | Cake: Harps Foods | Florist: The Petal Shoppe | Gown & Veil: Low's Bridal | Bridal Shoes: Dan Post Boots | Groom's Suit: Men's Wearhouse | Engagement Ring: Jones and Son Fine Jewelry | Wedding Bands: Jones and Son Fine Jewelry | Bridesmaid Dresses: David's Bridal | Hair & Makeup: Painted by Haley | Entertainment: Stumbaugh Entertainment | Videographer: Wild Bloom Films | Invitations: Arkansas Printing Company | Live Painter: Watercolors by Korry | Honeymoon Accomodations: Sandals Royal Bahamian