Carlton-Hotel, Autograph Collection, New York, NY
Midtown Locale with European Décor and Charm
{by Suzanne Scharff}
For an infusion of Parisian flair and European warmth, a stay at the four-star Carlton, Autograph Collection in the Murray Hill neighborhood is a must for the romantic at heart. Once the location of the glamorous Hotel Seville this 100+ year- old Beaux- Art building's interior was renovated by famed award winning American designer and decorator, David Rockwell. Art Deco design and flirty and festive atmosphere exudes old world charm throughout the 317 generous sized guest rooms with Madison Avenue views that are decorated in richly layered textures of soothing soft grey tones. Enhance your stay at this boutique Midtown hideaway and upgrade to one of their signature suites. From billiards to Broadway to hosting your private Speakeasy, there's an intriguing array of themed suites to indulge any fantasy.
Millesime, their signature restaurant can turn even the most ordinary day or gathering into the most memorable occasion. This establishment emulates all the glamour of a French brasserie with a glistening marble raw bar, a 100-year-old mosaic floor, Tiffany Dome skylight, miles of polished brass, a plethora of mirrors and inviting rich ruby red banquettes. Enjoy a bird's eye view of the open kitchen and the savory and mouthwatering seasonal seafood dishes prepared by the two- star Michelin Chef Laurent Manrique.
Equally lively but serving lighter fare are the Salon Millesime, Bar Bordeaux featuring 8,000 Bordeaux chateaus (on the corner) with an interior self-described as "vintage French meets Andy Warhol in lace garters;" and the always happening Lobby Bar; which has played backdrop for numerous fashion, TV and movie productions.
Situated in the desirable midtown location puts you right between Union Square, the Empire State Building and Grand Central station as well as a host of other landmarks, great shopping and entertainment.  Walk just a few blocks to the intriguing Museum of Sex just around the block or grab a burger at New Yorkers favorite Shake Shack just down the street.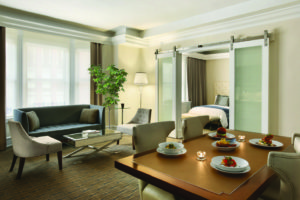 Looking for the ideal space for your stylish his/her bachelor party, engagement party or nuptial venue – The Conrad Hotel, Autograph Collection offers over 6,000 sq. ft. (7 different venues) of stylish and luxury space that seamlessly blends warm and elegant décor with modern architecture.
Whether you're celebrating a romantic getaway or happily ever after; remember the Carlton motto – "We have
everything to eat, drink or be married."
To get more information about the Carlton Hotel, New York, visit www.carltonhotelny.com