Ria Patel and Justin Hunsinger were married on June 4. 2022, at Wild Dunes in Isle of Palms, South Carolina. They shared a multi-ceremony celebration surrounded by loving friends and family from around the world.  We are so pleased the newlyweds shared their wedding story with Southern Bride.com. 
How did you meet? 
Justin and I are actually from the same hometown. We were officially introduced to each other in seventh grade by our mutual friend Charles, who was one of our groomsmen. I was transitioning to public school from a private school, and Charles was kind enough to introduce me to his friends. We had the same friend group throughout the school. However, we didn't start dating until the summer before my senior year of high school.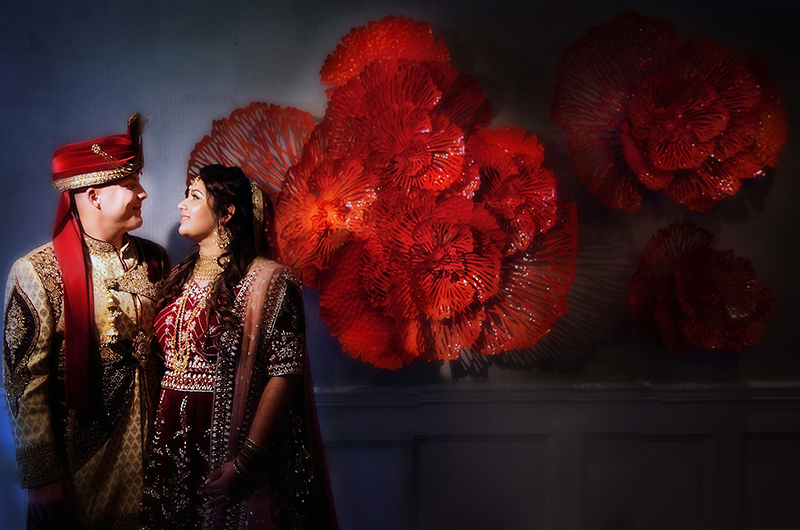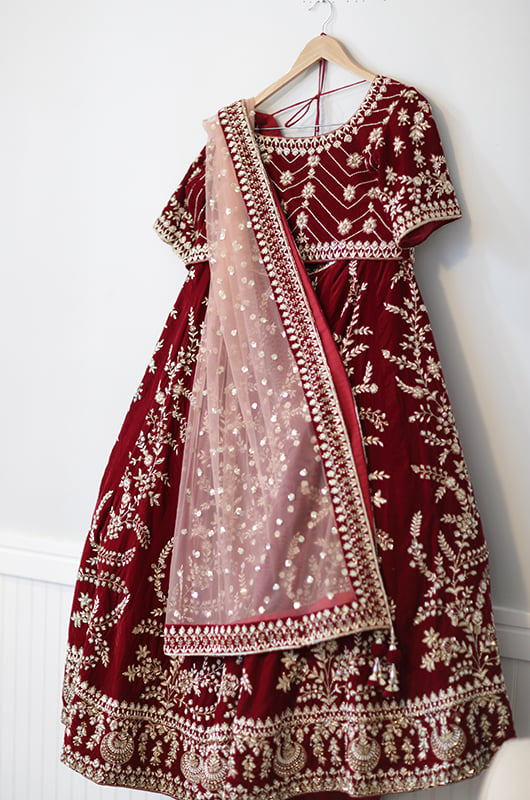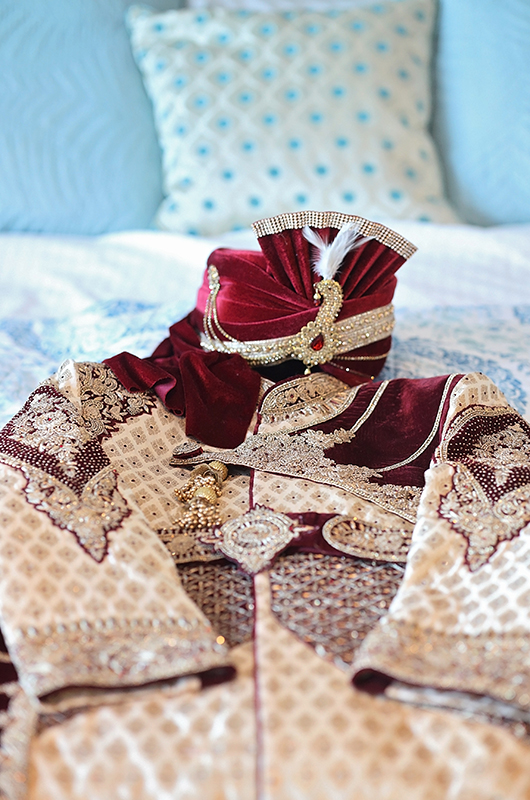 WHAT WAS THE MOMENT YOU KNEW HE/SHE WAS THE ONE FOR YOU?
I don't know if I can say there was a specific moment when I knew, but rather years of support, loyalty, commitment, and trust showed me that this man was the right person for me. We had the chance to grow together from childhood to adulthood while establishing our careers and sense of self, independent of each other. It required distance for most of our relationship, and it still does. Yet, through it all, we maintained what was important to us and kept it a priority. After a few years of dealing with distance, you'd think your partner may get tired and give up, but I think it motivated him more. How can you not adore that in a life partner?
Another aspect about him that sealed the deal was how much he respected and loved the South Asian culture, food, and my family. He completely immersed himself in the culture, which is amazing. It's a big part of who I am, and it means so much to me that I can share that with him too. How he interacts with my family and respects the dynamic is the sweetest thing you'll see. I swear they love him more than me!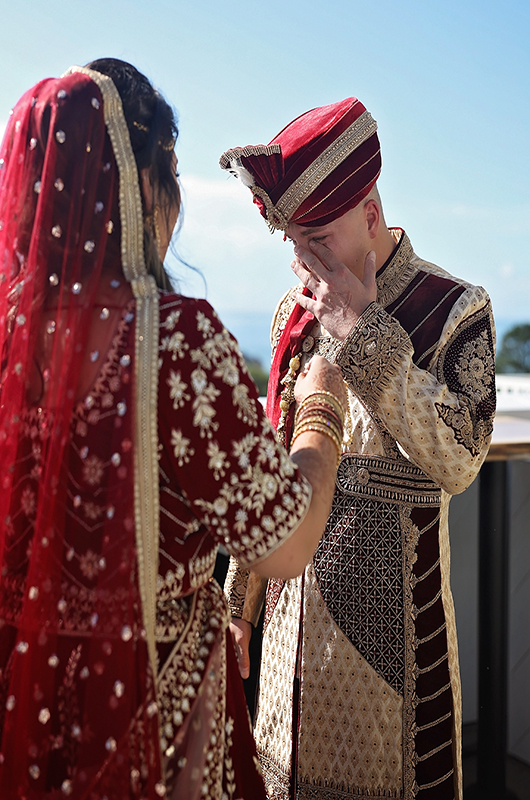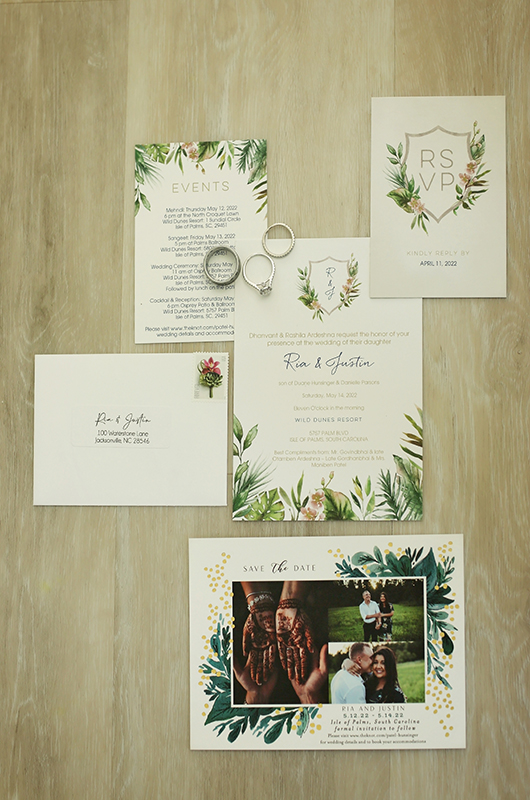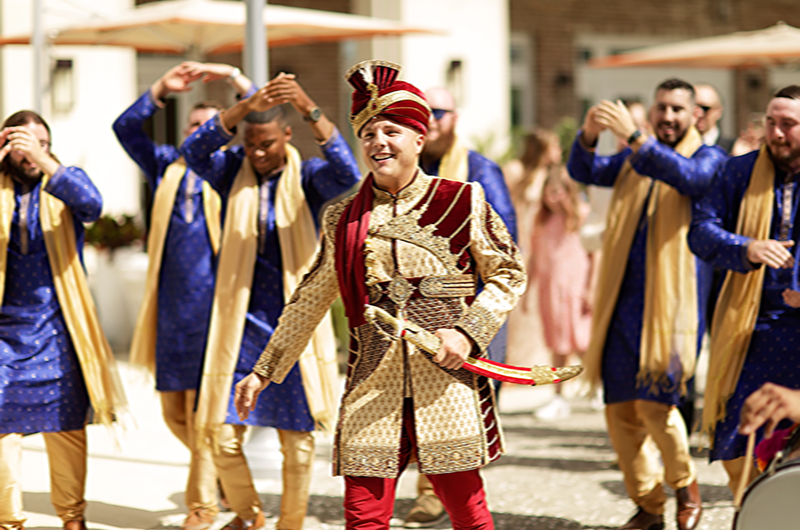 TELL US MORE ABOUT THE CELEBRATIONS AND CEREMONIES THAT ARE PART OF AN INDIAN WEDDING.
Ceremonies can differ depending on the cultural/ethnic group. However, we had three days with multiple events, which included a day with a Pithi, a Mehndi Night, Sangeet, Baraat, Wedding Ceremony, and Reception.
Pithi: The Pithi ceremony is a pre-wedding ceremony that involves spreading haldi, which is a paste made from turmeric, oil, water, and sandalwood, on the bride and groom. The paste is said to cleanse, purify, and even make the skin beautiful and bright for the wedding. The ceremony is meant to be playful and fun so the friends and family can have fun with it and slather it all over the bride & groom. However, they better watch out because they can get payback, one way or another!
Mehndi Night: This ceremony or event includes the bride getting her bridal henna (mehndi) done. Some brides may choose to have their henna done with other female family members or decide to have a whole Mehndi night and invite all guests to have the chance to get some henna designs. The henna is applied to the hands/arms and the feet/legs with a long dry time to ensure a rich dark color. It is said that the deeper the color, the stronger the bond between the bride and groom. The henna artist will hide the groom's name in the bride's palm for him to find later, and some grooms will apply a small henna design on their hand themselves.
I decided to have my henna done a day before the Mehndi Night, so I could enjoy mingling with guests and dancing. It took about 8 hours to complete, and I slept with my henna to ensure the color would be vibrant. We decided to opt to go with a Mehndi Night option where all guests could get the opportunity to apply henna designs. This was the first time most of our family members met, so we also wanted this to be like our welcoming party.
Sangeet: The Sangeet translates to "sung together" and kicks off the celebrations the night before the wedding. It's a night of performances and traditional dances. Family and friends usually perform dances for the bride and groom, which can sometimes become a dance competition. Traditional dances include the Garba and Dandiya Raas, amongst others.
Our Sangeet included many performances from our family and friends. They absolutely killed it! There was a special surprise performance from the bridesmaids and myself that we'd been secretly working on for months. We were so happy to pull it off without anyone else finding out about our secret, especially Justin. He was so surprised!
Baraat: This is the groom's time to shine. He gets his own processional which includes all his family and friends surrounding him and dancing to celebrate his getting married. The groom traditionally rides in on a white horse, but I've seen many use sports cars, motorcycles, or other types of unique rides. The processional can last up to an hour and ends with meeting the bride's family at the entrance of the wedding venue. This moment symbolizes the two families coming together and the bride's family welcoming the groom into their family. It's celebrated with a small ceremony called a Milini.
Justin rode in on a horse with his family, groomsmen, and my cousins surrounding him, dancing to the music. He was so excited to feel like a Raja (king) with his kirpan on that horse! His baraat party definitely didn't disappoint in hyping up the groom and starting the morning off right!
Ceremony: The wedding ceremony takes place under a mandap which is the altar. The wedding includes many different ceremonies, but the Vermala is when the groom is welcomed to the mandap. After the bride and groom exchange garlands and the Agni (fire) is lit, the Kanyadhan symbolizes when the bride's parents give her away to the groom. The Mangal Phera consists of the couple joining hands and walking around the Agni (fire) four-seven times. This signifies them taking an oath in front of God, quite
similar to vows. There are many other aspects to the wedding, but they also depend on the cultural group you are associated with. The ceremony is quite long and can last up to 2 hours, with some ceremonies including tea time.
Reception: The reception is much the same as any other reception. There is the traditional first dance, father/daughter dance, mother/son dance, speeches, cake cutting, and of course, the best part, dancing!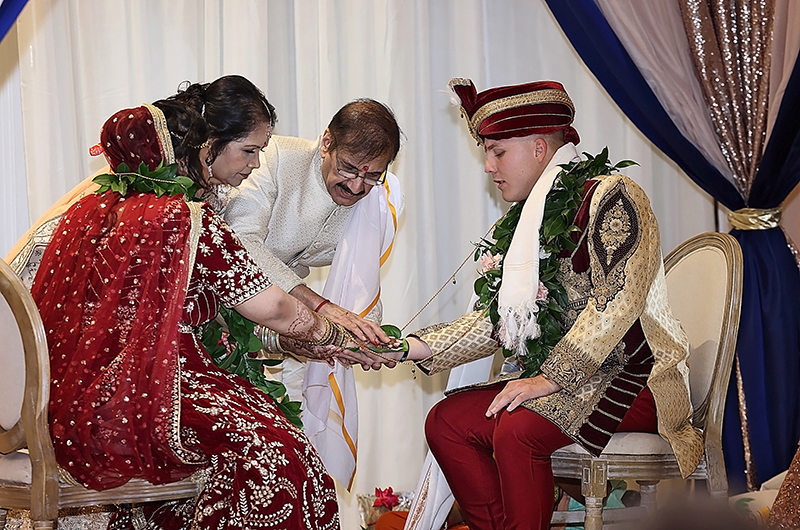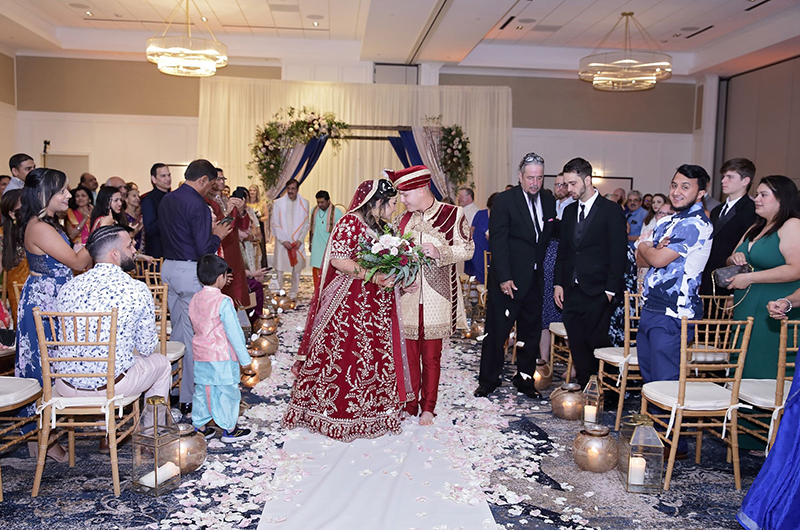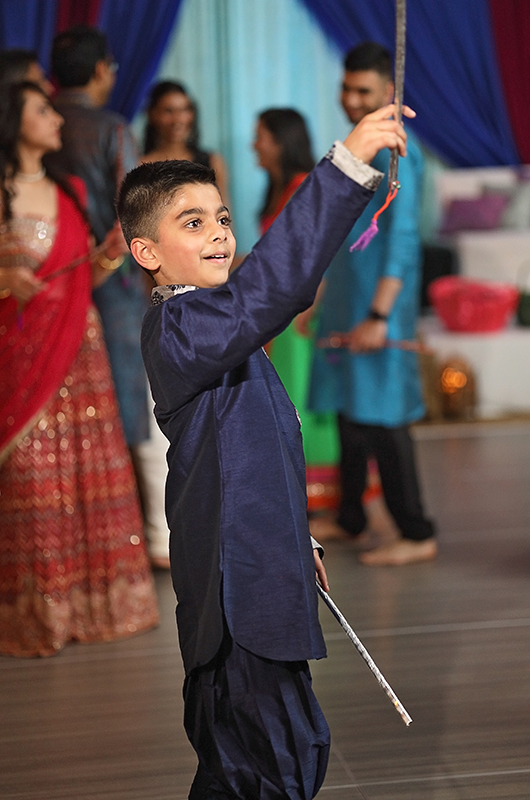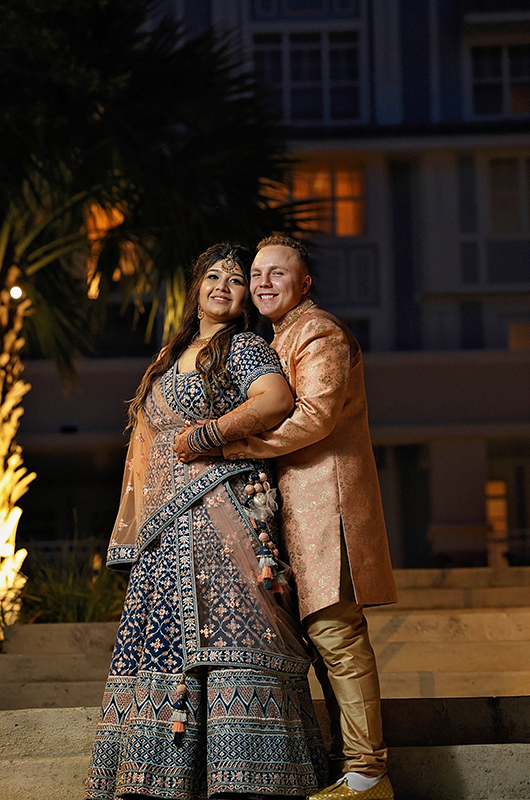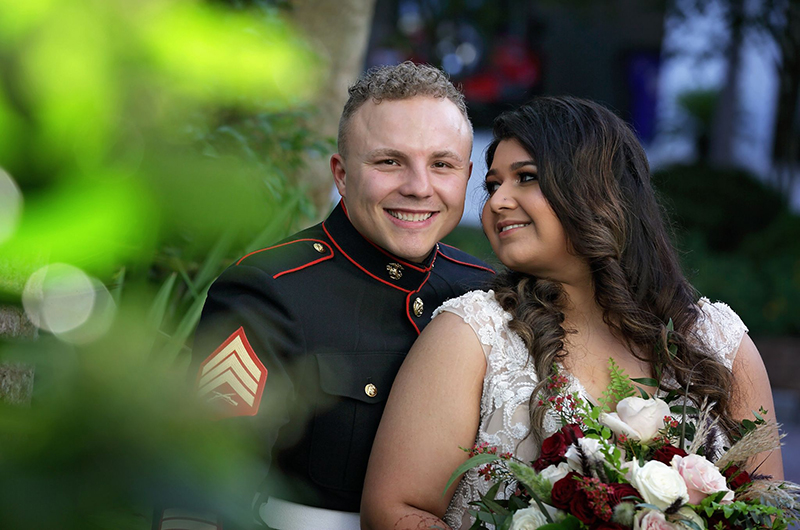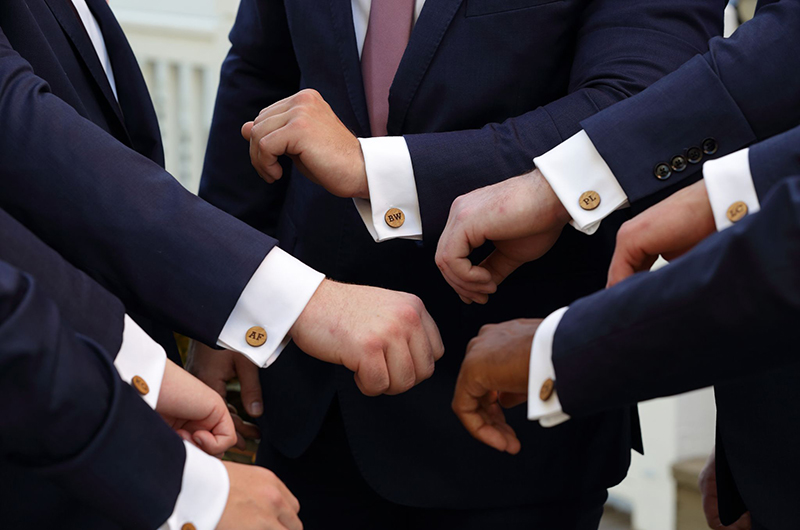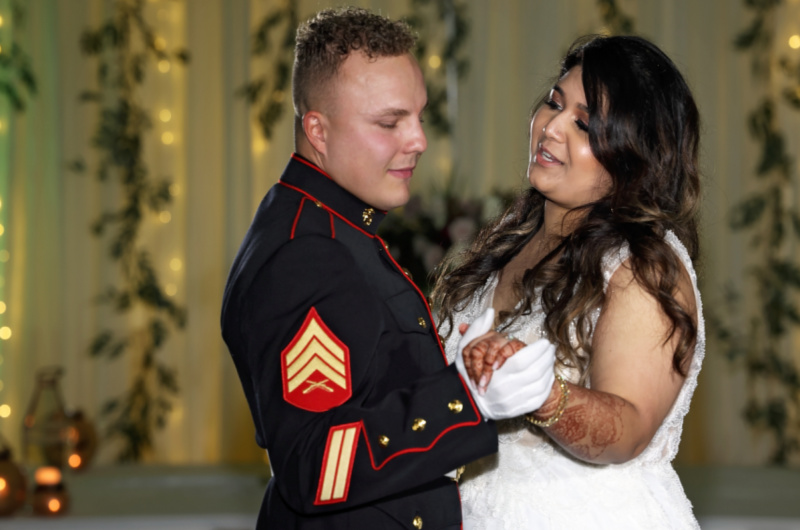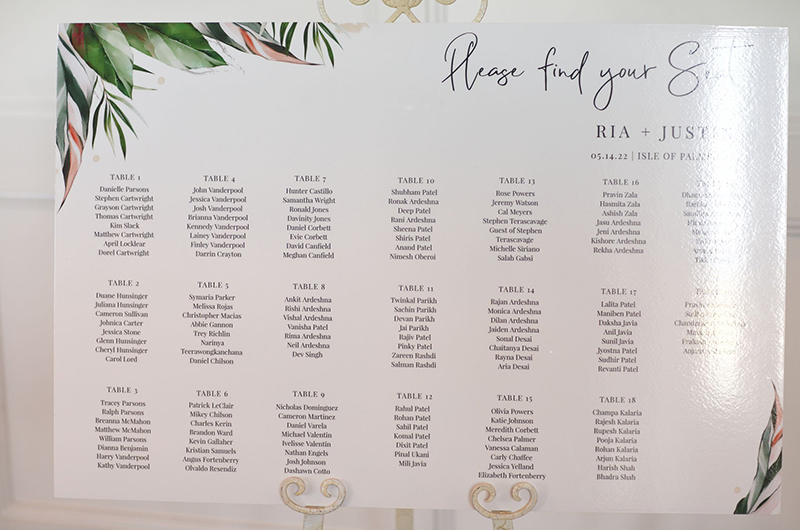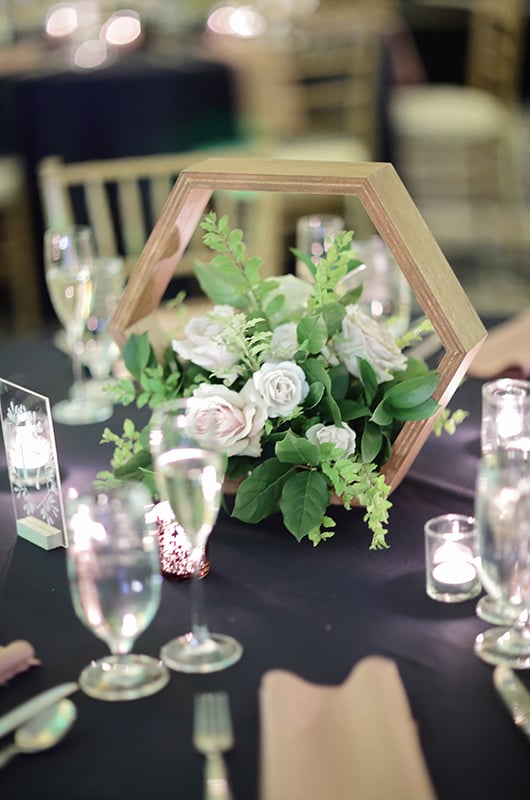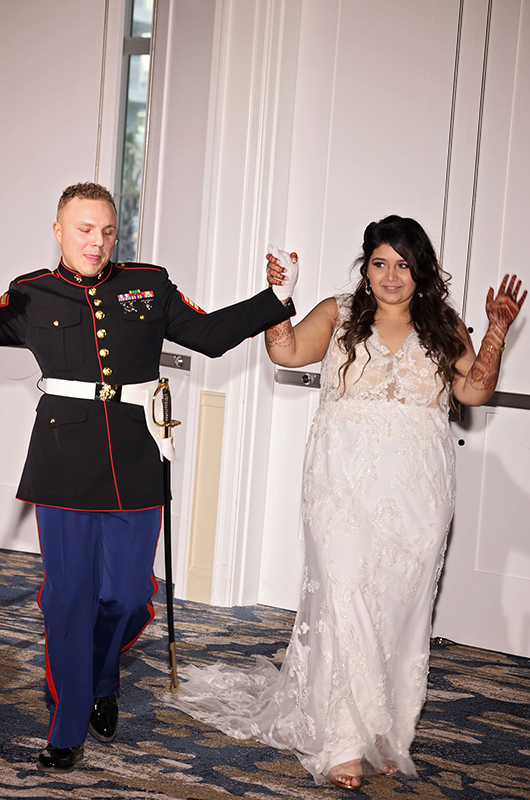 FAVORITE MEMORY OF THE WEDDING?
My favorite memory was sitting at the sweetheart table and taking a moment to look out at all the family and friends who traveled to be there to celebrate with us. It was truly a wholesome moment. We were honored to have so many people travel from all over the world, yes, I said the world, to be there for us, and we couldn't believe that it was for us! You could feel the love in that room and everyone enjoyed dancing the night away. Receptions are my favorite part of weddings, so we enjoyed dancing with everyone and seeing even the shyest people busting moves on the dance floor. We still get guests sharing that it was the best time they've had, and that's all we could have wished for!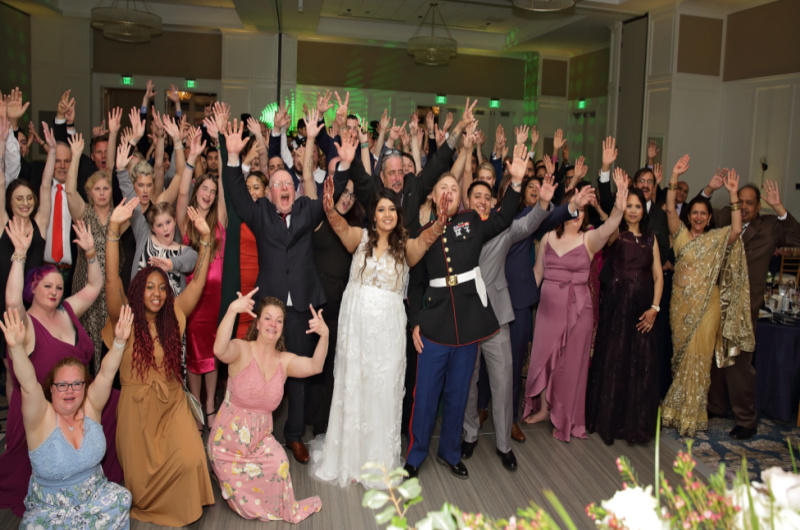 photography & videography by: King Street Photo Weddings | wedding planner: Younesse Events | venue: Wild Dunes Resort | hairstylist: Blush BeautyBar Charleston | entertainment: Royal Events DJS |