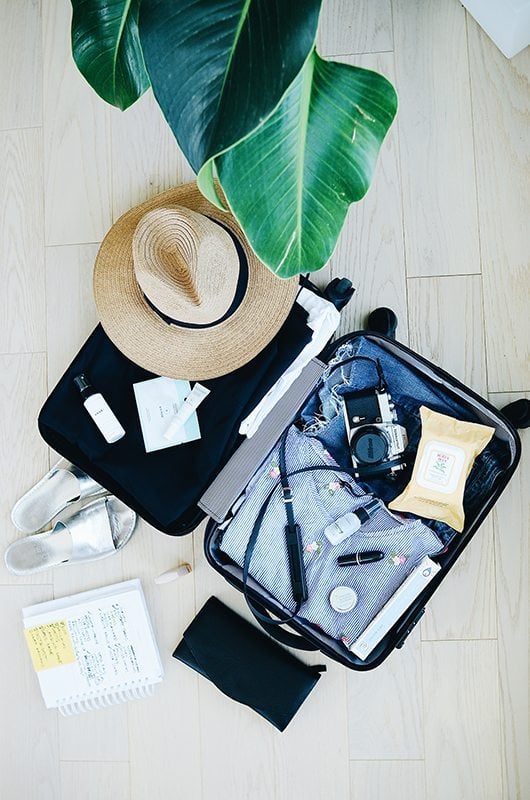 1.Roll your clothes.
This one is the easiest trick in the book. Rolling your clothes tightly increases the space in your luggage. That's just a proven fact. Just make sure that you have an iron wherever you're going.
2. Fill your purses with small items such as swimwear and underwear. 
You can do this with boots as well. It's worth a few extra pounds on your arm if you can fit another amazing outfit into that carry-on. Filling up that extra space is surprisingly helpful. 
3. Keep cosmetics basic.
No, you probably won't end up using that giant eyeshadow palette. Limit your makeup bag to the absolute essentials. Trust us, the space you save is worth it.
4. Carry travel-size toiletries, or purchase toiletries when you reach your destination. 
This one is our absolute favorite. Full-sized bottles of shampoo/conditioner/body wash only take up lots of valuable space! The travel-size bottles are so easy to find on either side of your journey. Why waste any more shoe space?
5. Pack versatile clothing items.
Packing neutral clothing that you can mix and match is always better than packing multiple statement pieces. Spice up your outfits with colorful jewelry. You'll be able to save so much space just by packing more silver than skinny jeans.
But before you pack up, you might want to consider upgrading that old, beaten luggage in your closet. Visit our friends at Delsey Luggage for stylish, new bags today!