Known as a pioneering force in the fashion industry, supermodel Liris Crosse is a voice of inspiration and change. Liris is the first full-figured model to win Project Runway's modeling competition, the author of Make the World Your Runway: Top Model Secrets for Everyday Confidence and Success, and the brand ambassador for Maggie Sottero, a bridal designer whose stunning open-back lace dress graced the cover of our Summer 2020 print issue—and she's just getting started.
Liris's career in the fashion industry has been marked with determination, confidence, and longevity: the average model's career span is five years, and Liris has more than doubled that. Southern Bride recently chatted with Liris about the lessons she's learned throughout her career, the necessity for diversity and inclusion in bridal fashion, and the future she sees for both herself and the industry. Here's what she has to say about making the world everyone's runway.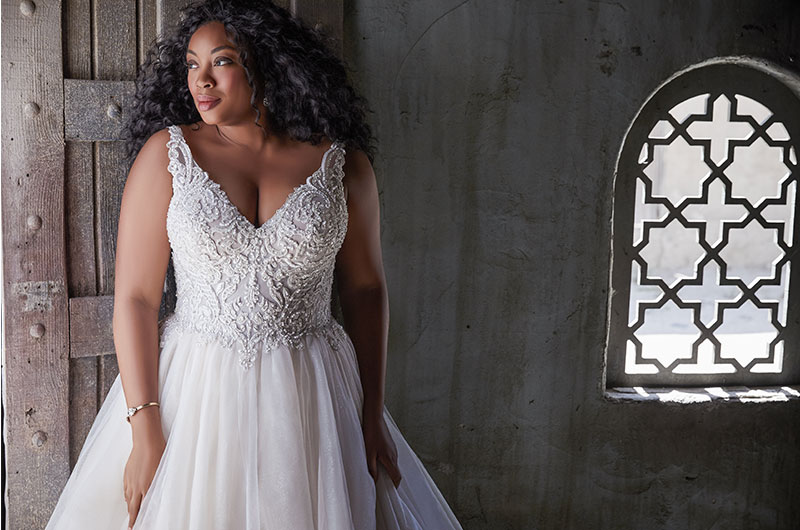 Southern Bride:

Tell us about your work with Maggie Sottero! How did you become involved in the bridal fashion industry?
LIRIS: I've always been in love with the bridal industry. When I was a little girl, my mom used to take me to the library, and I was always drawn to Vogue, Harper's Bazaar, Elle, and (of course) the bridal magazines. I loved looking at the beautiful wedding gowns and imagining myself in them as I practiced my model poses in the mirror.
I've been working with Maggie Sottero for three years now. I still remember when I did my first shoot with the Maggie Sottero team—it was a Cinderella moment. Normally, when you're on set, stylists will stick a pillow down the back of your dress or use different clamps to fit it to your body just right, but at my Maggie Sottero shoot, I would put on a dress and it would just zip up. Each dress literally fit like a glove, like it was meant to be. It was this full circle moment when I realized that I live the life of a working model and now I'm the woman in the magazine helping women of color and women of size envision what they'll look like on their wedding day.
Southern Bride:

H

ow would you describe diversity within the bridal fashion industry? What changes would you like to see?
LIRIS: Fashion has been built on aspiration for so long, and when you think about it, weddings are things people dream about. They're an aspiration, too. Some brands think that being skinny is part of that fantasy and they expect that you're going to want to lose weight for your wedding. Personally, I know that I'm fine just the way I am, and there shouldn't be this expectation of, "Oh, you're getting married. You should lose weight." Brides should be able to go to a variety of boutiques and experience their own Cinderella moment where they find not just a dress, but the dress that works for them as they are right now.
Southern Bride:

As someone who has worked with both bridal and mainstream fashion brands, how would you compare diversity within the two industries?
LIRIS: A lot of people say that bridal is the last segment of the fashion world to really take on diversity and inclusion. If you really look at the fashion world right now, there's a changing of the guard. For so many years, we looked at certain household names that were the end all, be all, and now you have people like Rihanna who embrace diversity and who send brands that refuse to change with the times scrambling because people are craving change.
The bridal industry needs to cater to different types of audiences. We need to see all types of diversity in runway shows, ad campaigns, and Instagram feeds, because people of all sizes, races, and ages get married, and love and beauty is present in every stage of life. The average size of a woman in America is a size 16. So why wouldn't you want to run an ad that features the average woman? Maggie Sottero shoots me in dresses of all styles. I'll be in a fit and flare with all these curves—like hello! She's here! She's arrived!—and while to me, it's an amazing job, to others, it means a lot more. It enhances and personalizes their shopping experience.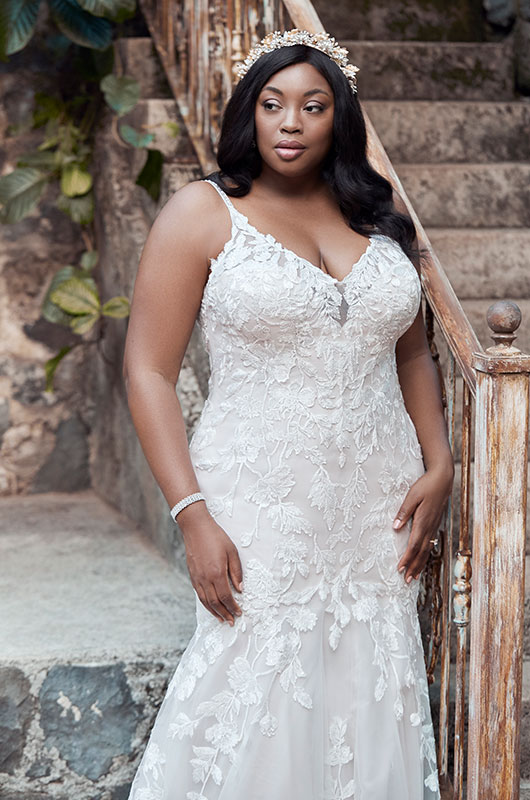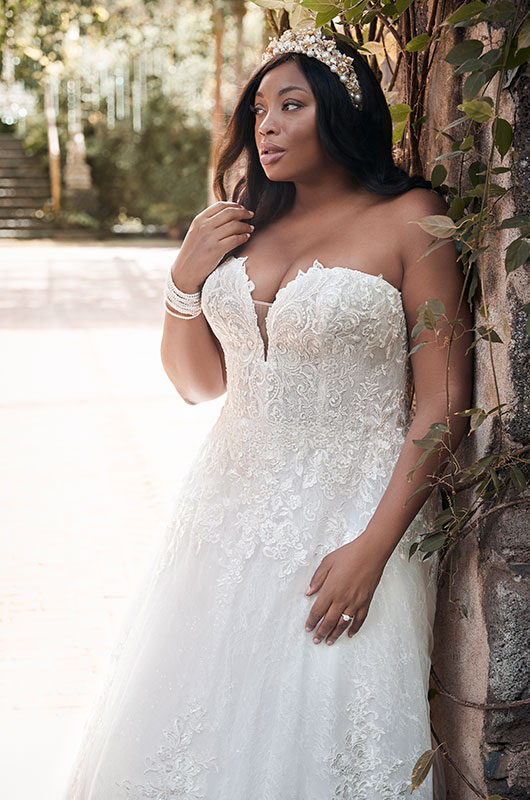 Southern Bride:

How do you think your time on Project Runway has affected diversity on the runways?
LIRIS: I had the time of my life on Project Runway. Season 16 was the first season that models were ever miced, and that was huge. It really humanized us. Before, models were seen and not heard. To whom much is given, much is required: sometimes, you have to be the person who just shows up with your presence and your voice. So, having been given the opportunity to use my voice, I knew I was representing more than just the modeling industry. I was representing the plus sized woman.
A lot of Project Runway fans talk about the moment when Brandon was designing for me and he asked me what I liked, and I said, "Well, I love my body, so I need to show it off and embrace it instead of you trying to put me in a potato sack, you know?" I was able to speak up and I really feel like my experience on Project Runway helped to be the catalyst for change that we're seeing across the runway as different shapes, sizes, races, ages, and different looks within each those demographics take center stage on the runway all at one time.
I believe in being the iron hand in the velvet glove, saying the hard thing but saying it with love, and that's the same energy I've been able to take within the bridal industry to create change.
Southern Bride:

How do you feel about the label "plus sized?" Do you think brands should abandon it? Would you prefer to just be called a model?
LIRIS: I didn't know plus size modeling existed until I was placed with a plus sized agency at the beginning of my modeling career. I was an athlete in high school: I ran track, did cheerleading, and played basketball. I was active, and I knew I didn't need to lose weight, but if you weren't a size 2 or a 4, they considered you plus sized. So I thought, "If this is the platform I need to work in order to be a model, so be it."
I already know I'm a model—period. I am plus, but I'm also a model. But, there's not enough of us out there yet. So I'll continue to use that marker because I know I'm amazing in my difference. Society isn't used to seeing these curves or this Blackness, and I will speak up until society catches up and views us all as just models.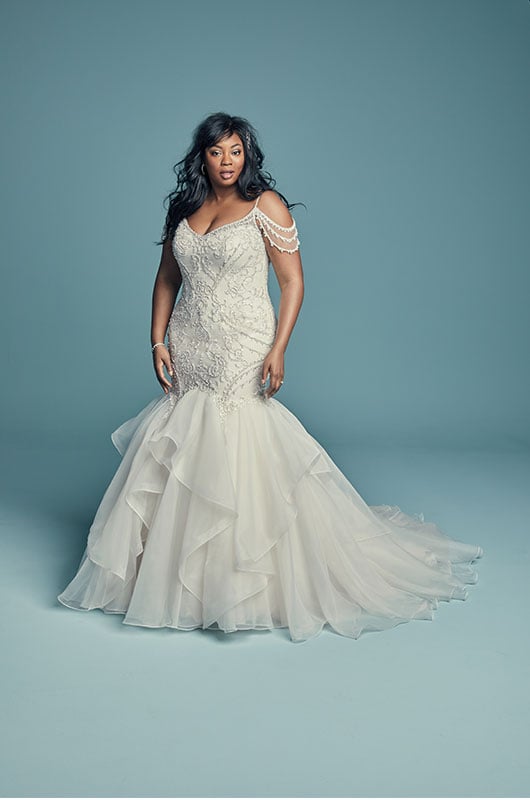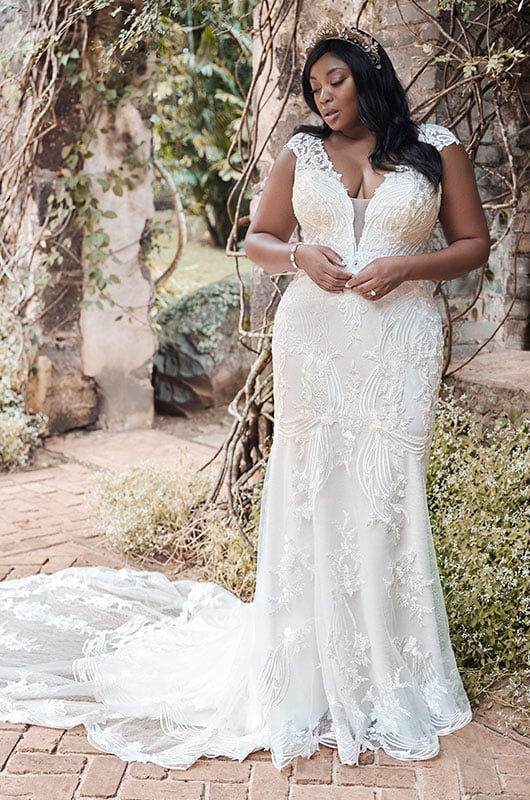 Southern Bride:

You are so incredibly confident, and you give others tips to create their own sense of confidence in your book. What inspired your book, and what do you hope people get out of it?
LIRIS: My book was inspired by Project Runway fans and a boot camp I did on The Steve Harvey Show for everyday women to do things that models do, but to utilize it for themselves in their everyday lives. The book takes stories from my model life and expounds upon the physical, mental, and emotional implications of each of those stories. For example, a model has great posture, and that posture asserts itself when a model steps into the room. Posture is alignment, so what is the posture of your life? Who are you aligned with in your life, and how does that affect you mentally, spiritually, and emotionally? Models always have to be prepared for a job with their hair and makeup ready and their model bag packed. How are you preparing for your jobs, whether it's your literal job, a family gathering, a workout routine, or just stepping out of your front door? Model mindset is everything.
My book is the guide to help you be the best you, and we become our best selves by stepping out fully into our confidence. Confidence and mindset are everything. When we are mindful of how we show up in the spaces we go to and we make a conscious effort to step into the world with our inner and outer beauty, we color the world with our personality. When people fully and confidently step out in their purpose, it creates a better world overall.
Southern Bride:

So what do you do when you aren't feeling so confident?
LIRIS: I have to remember that this feeling that I'm going through will not last forever and I have a choice in how I can shift my energy. Life happens, but we're able to choose how we react. When I start to feel pessimistic or like the world is caving in, I know I have to create boundaries, say no to what's not urgent, and tap into my joy.
I started to do posts on Instagram where I dance in the house because music makes me feel good. I speak to people who bring me joy, build me up, and fill me up. I have a jar filled with sticky notes of great moments that have happened to me and sometimes, I have to go back into the jar so I can say, I'm having a bad day, but I can shake out these good moments and hold onto those.
The moment we are about to give up is when something amazing is going to happen. We're so caught up in the rat race that we forget about what we've been able to accomplish and what we've made it through, and remembering those things can give you the strength to push through.
Southern Bride:

If you weren't a model, what would you be doing?
LIRIS: I think I'd be doing a lot of the things I wrote down when I was in elementary school. I would have a full-service salon and I would be a designer. And these are things I'm still working on. I love modeling, but eventually I want to evolve my behind-the-scenes presence and push the fashion industry in other ways. Someday, I hope to have my own line of dresses through Maggie Sottero, a brand who creates beautiful pieces and who helps all women feel beautiful.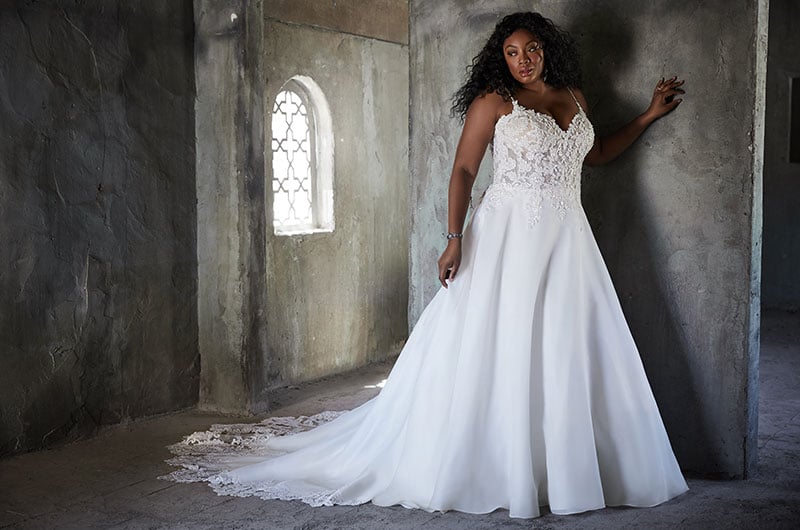 During the earlier part of the pandemic, Liris directed and produced a video for Maggie Sottero Curve's Spring 2021 collection in lieu of bridal expos and fashion shows. Liris, a champion of all voices, amplified the voices and talents of Black vendors within the industry.
"A lot of times, Black hair and makeup artists aren't given the same opportunities for big ad campaigns, so to put money in their pockets and give them an opportunity to align themselves with such an important brand was inspiring," Liris notes.
The video, a smash success among retailers and vendors alike, is a testament to Liris's multifaceted talents. Candid, charismatic, and confident, she continues to find new ways to be a trailblazer, and the bridal fashion industry is already improving because of her. We are honored to feature supermodel Liris Crosse, who fosters camaraderie, promotes inclusion through the shared love of weddings, and reminds us of our mission to make every bride feel seen in our pages and on our feed. Supermodel Liris Crosse is an embodiment of the Southern Bride spirit, a beauty that radiates from the inside out.
By Olivia DuCharme
Images provided by Maggie Sottero