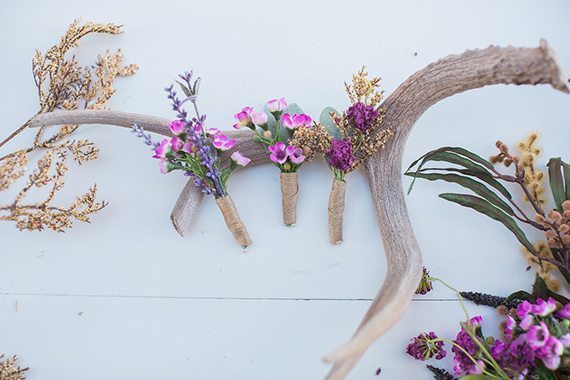 I have always been envious of the springtime bride planning an outdoor soirée, for venues have never looked better. Nature is beautifully painted with rolling green hills and springtime buds grace our presence. Wildflowers, of all shapes and sizes, are in abundance everywhere we look. Whether planning an extravagant wedding or a no-fuss backyard ceremony, wildflowers can provide the perfect eclectic mix for your big day. These untamed florals come in a variety of colors, shapes, and sizes bringing an organic, unexpected twist to your wedding florals.
Whether sourced from the field behind your house or the local florist, wildflower bunches can add whimsical charm to every element of your big day. Today, we're indulging our springtime bridal envy and showing you how you can incorporate a "gathered wildflower" look for the groomsmen in your party. Feeling crafty?… settle in to learn how to make these beauties yourself. Not the DIY type? Head on over to our shop to purchase yours for the big day or to request a custom item.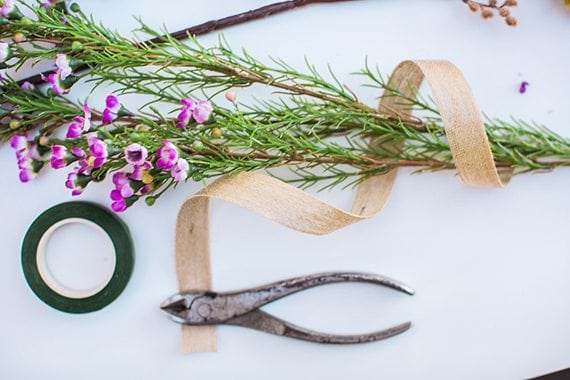 Supplies:
Floral Tape
Scissors
Ribbon, twine, or fabric to wrap the base
Wire Cutters (if using faux flowers)
An assortment of real or faux flowers
*In my personal opinion, not all faux flowers are created equally. Check out our post on why we love the right faux flowers here and make yours weeks in advance!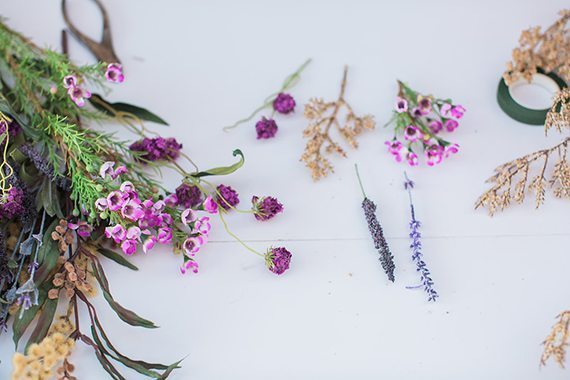 Step 1: Gather an assortment of flowers and greenery to use in your boutonnieres and cut the longer stems into more manageable pieces. Be sure to leave enough of a stem to ensure that you have enough to wrap later for the base of your boutonniere.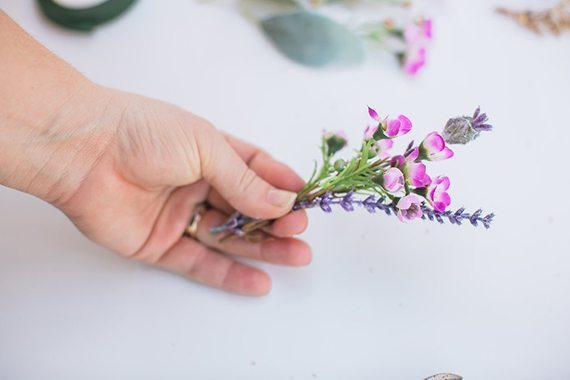 Step 2: Play with several combinations of flowers and greenery until you find a combination that speaks to you. I like to make sure that there are different textures and sizes within each. I might pair something long and skinny with a fuller flower to add interest and depth.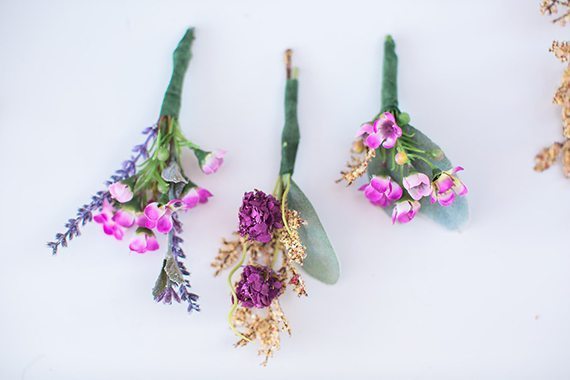 Step 3: Secure your design with floral tape.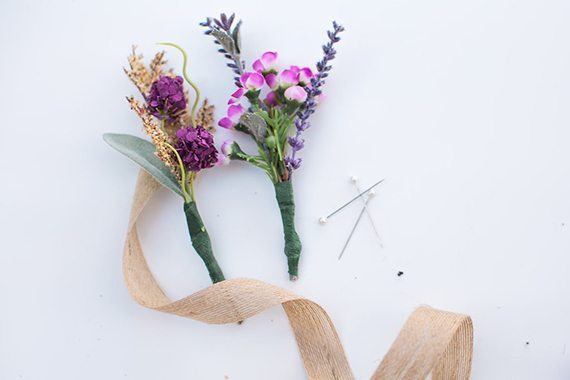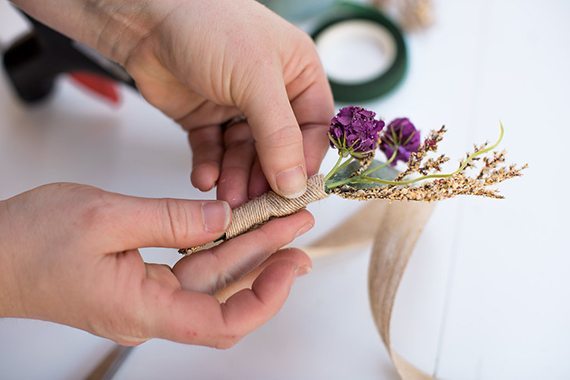 Step 4: Starting at the top, work your way down the stems with your choice of wrap. Here we have used a jute ribbon that is easily hot glued in place as we wrap the base and secure with glue in the back.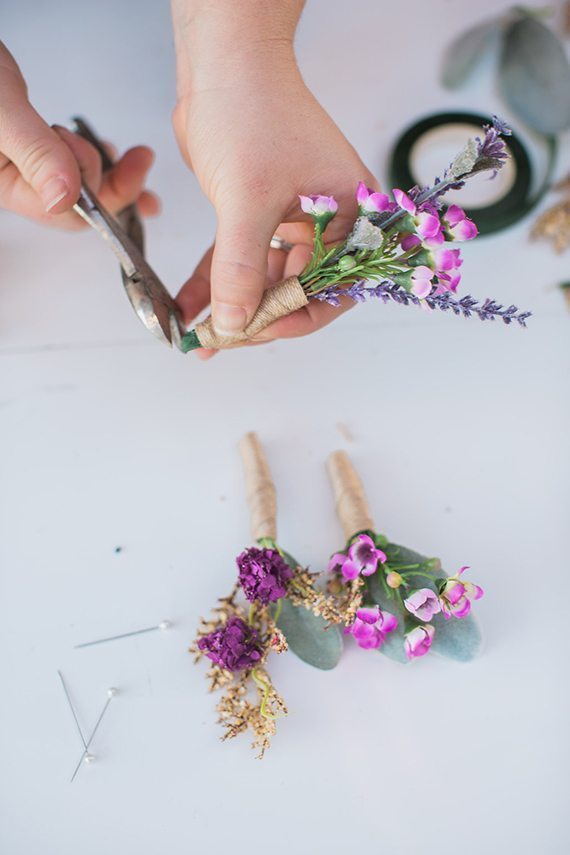 Step 5: Cut any excess stems from the bottom.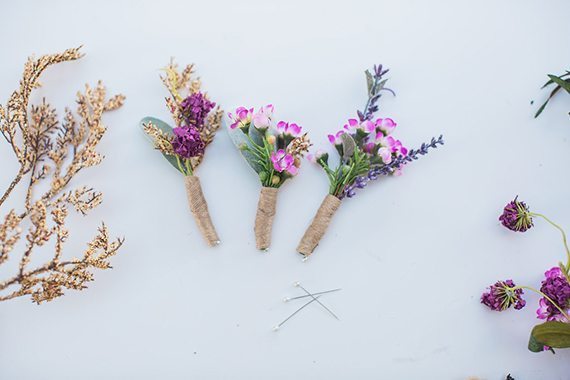 Step 6: Don't forget the floral pins! I like to stick my floral pins directly into the boutonniere for application later.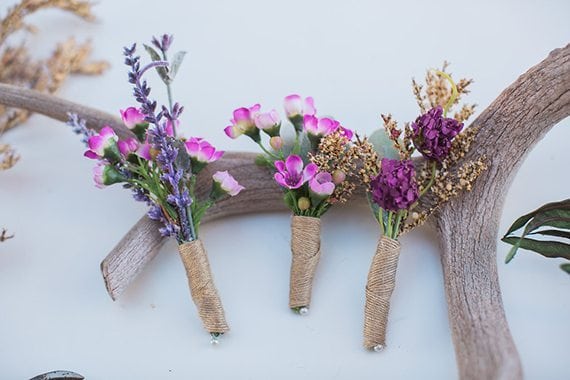 And voila! Create this process for all of the groomsmen in your group for a fabulous gathered look, making slight variations in each. And then do a little happy dance for accomplishing a fun DIY project and checking something else off your list (:
:: credits ::
{ photographer: Brooke Hughes }