Thousands of years ago, a massive volcano erupted on a small Greek island, leaving a caldera of steep cliffs bordering an island. Known for its stunning views and white painted villages, this small speck on the map came to be known as one of the most sought after and magical travel destinations: Santorini. As part of the Cyclades island group, Santorini has a population of 15,500, and the drive from one side of the island to the other only lasts around 45 minutes. From where to stay, things to do, and places to see, our travel guide for Santorini will have you prepared to pack your bags and book a flight ASAP.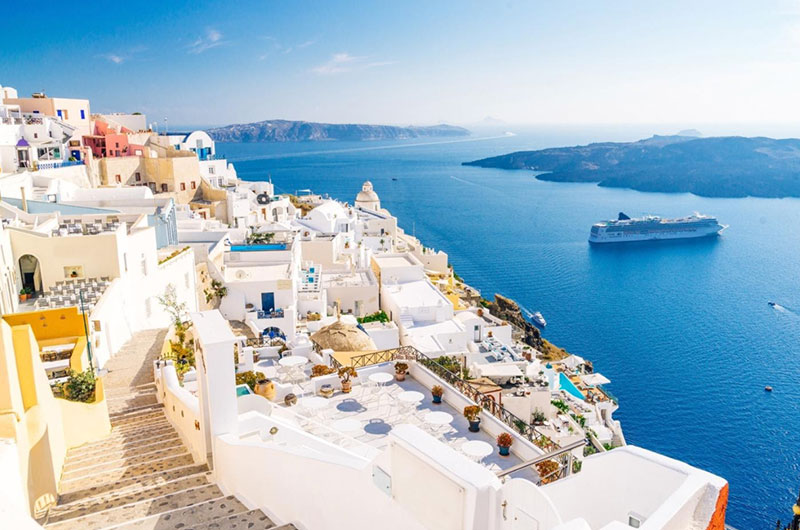 Image courtesy of Santorini Best Tours
Located on the western side of the island with buildings sprawling up the caldera, the most popular tourist towns in Santorini are Fira, Oia, and Firostefani, all of which offer luxurious villas, suites, and hotels with immaculate views and amenities. Fira is the largest town on the island with the most frequented restaurants, shops, and hotels. If you are looking for a bustling area, Fira provides the right amount of action for the adventurous traveler. Secluded on the northwestern tip of the island lies Oia, which provides a calmer and picturesque scene for those who want to relax. If you don't want to be in the middle of the action, but close enough to walk to the hustle and bustle with ease, Firostefani is only a ten minute walk from Fira. Home to about ten to twelve restaurants and only a few markets, Firostefani lends itself to a quiet stay with plenty of opportunities to stay entertained.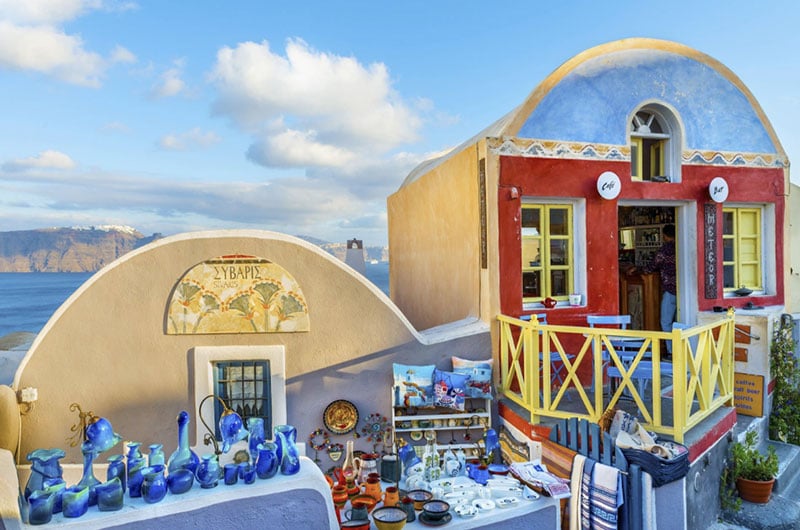 Image courtesy of Greeka.com
No matter where you end up staying or how active you want to be, there is no shortage of entertainment on Santorini. Sunbathe in the warm weather on one of the island's many beaches, including the famous red beach and black sand beaches. If you want to get out on the water, take a trip on a boat tour, scuba dive, parasail, or jet ski. If you want to learn about the history of the island, Santorini is home to the historical Bronze Age ruins of ancient Akrotiri and an abundance of antique and jewelry shops. After spending your action-packed day exploring the area, be sure to stop and taste test the delectable cuisines and wines special to the area, unwind at one of the island's spas, or celebrate Santorini's bustling nightlife by club-hopping.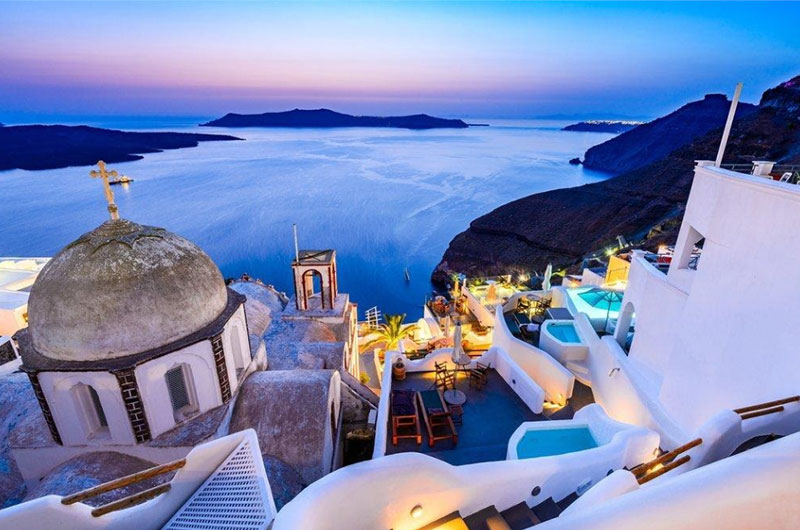 Image courtesy of kimkim.com
Vacationing to Santorini at any time of the year is an unforgettable experience, but peak travel time for tourists falls in the summer months of July and August. Travelers who prefer more of a tranquil and less packed stay on the island find that visiting in the months of April-June and September-October delivers just as beautiful weather and abundance of activities as the busier months without the crowd. Whether you're visiting for a getaway, honeymoon, or girls' trip, our travel guide to Santorini will ensure you soak up everything the enchanting and alluring island has to offer.
By Lauren Bjerke